DanceAbility Workshop with Alito Alessi
March 12, 9:00am - 10:15am
Mānoa Campus, UHM Dance Building Dance Studio, 1820 Edmonson Road, Honolulu, HI 96822
---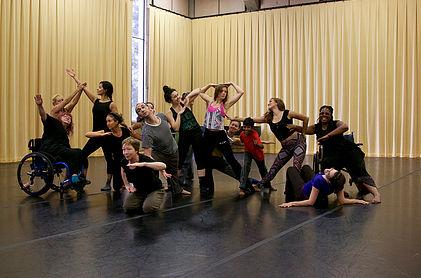 Thursday March 7th / Sunday March 10th / Tuesday March 12, 2019

Tuesday and Thursday 9:00am to 10:15am
Sunday, March 10th 10:00am to noon
DanceAbility Workshop with Alito Alessi
The workshop teaches foundation exercises and basic concepts of movement improvisation to people of all abilities, based on things that can be done by ALL participants.
Free and open to the public
UHM Dance Building Dance Studio
1820 Edmonson Road, Honolulu, HI 96822
A Fulbright Senior Specialist, Guggenheim Fellow, and American National Endowment for the Arts awardee, Alito Alessi is the Artistic Director of DanceAbility International and has been involved with the evolution of contemporary dance for the past 30 years. He is internationally known as a pioneering teacher and choreographer in the fields of contact improvisation and disability dance. In 1997, Alessi began training teachers and teaching educators in various disciplines to make their classes accessible to people with disabilities.
Made possible by The Edward A. "Skeep" Langhans Guest Artist/Scholar Award
Ticket Information
Free, open to public
Event Sponsor
Theatre and Dance, Mānoa Campus
More Information
(808) 956-2598
---
Tuesday, March 12

9:00am

DanceAbility Workshop with Alito Alessi

Mānoa Campus, UHM Dance Building Dance Studio, 1820 Edmonson Road, Honolulu, HI 96822
11:00am

Free Games, Prizes, and more for Advising Month

Honolulu Campus, HonCC Cafeteria -Building 4
12:00pm

CJS Seminar: Studies of the Empire of Japan & its Legacies

Mānoa Campus, Moore Hall 319 (Tokioka Room), 1890 East-West Rd.
12:00pm

Music Final Oral

Mānoa Campus, Music 8
12:00pm

PI-CASC Federal Director Candidate Seminar

Mānoa Campus, HIG 210
12:00pm

Free Speech at Manoa: What is the Role of the Public University?

Mānoa Campus, iLab
1:30pm

Sex Discrimination & Gender Violence in Higher Education Workshop for GAs

Mānoa Campus, Kuykendall 106
2:00pm

Study Abroad Info. Meeting - Semester in Adelaide, Australia

Mānoa Campus, Moore Hall 155A
4:00pm

Law School Information Session

Mānoa Campus, 2515 Dole Street, Seminar Room 4
5:00pm

Words on Music Guest Speaker Series

Mānoa Campus, Tokioka Room (Moore Hall 319)
5:00pm

2019 Words on Music Guest Speaker Series featuring Dr. James Revell Carr

Mānoa Campus, Tokioka Room (Moore Hall 319)
5:30pm

FOF Third General Meeting

Mānoa Campus, UH Manoa Hemenway Hall 204
5:30pm

FOF General Meeting

Mānoa Campus, UH Manoa Hemenway Hall 204
7:00pm

Hawaiʻi Botanical Society Meeting

Mānoa Campus, Mānoa Public Library (2716 Woodlawn Dr)