The Matryoshka Doll as Symbol of National Identity
March 27, 3:30pm - 5:30pm
Mānoa Campus, 252 Moore Hall
---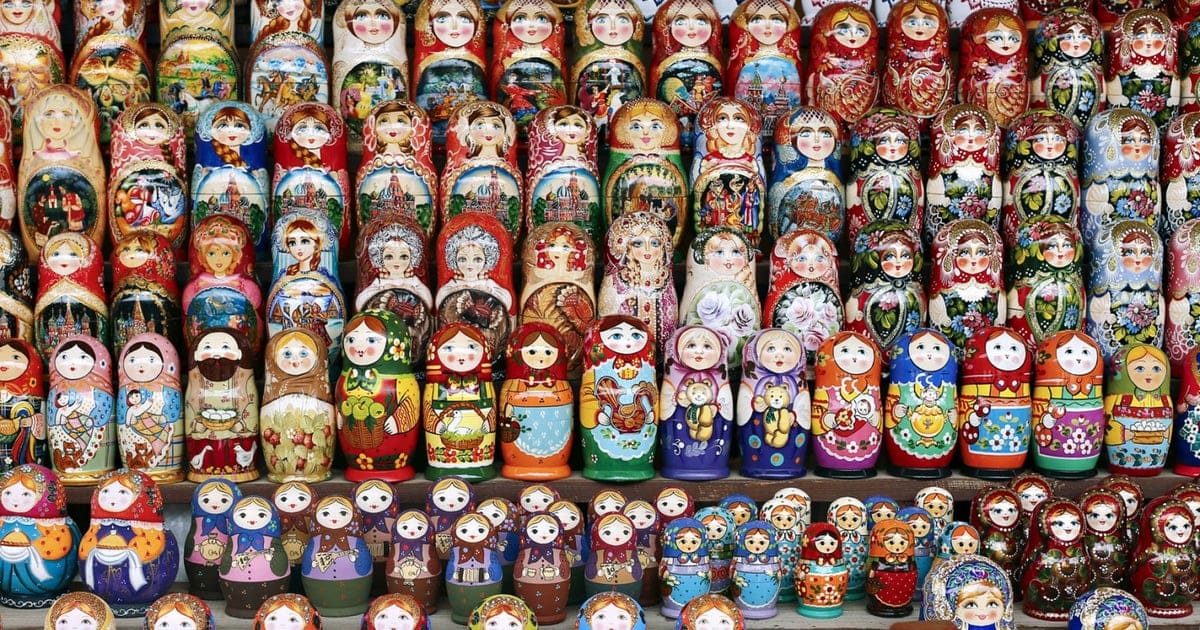 Professor Helena Goscilo speaks about a Russian cultural icon, Matryoshka (nesting doll). Matryoshka is often seen as a symbol of the feminine side of Russian culture. Matryoshka is associated in Russia with family and fertility.
Matryoshka dolls are a traditional representation of the mother carrying a child within her and can be seen as a representation of a chain of mother's carrying on the family legacy through the child in their womb. Furthermore, Matryoshka dolls are used to illustrate the unity of body, soul, mind, heart and spirit.
Matryoshkas are also used metaphorically, as a design paradigm, known as the "matryoshka principle" or "nested doll principle". It denotes a recognizable relationship of "object-within-similar-object" that appears in the design of many other natural and crafted objects. Examples of this use include the matrioshka brain, the Matroska media-container format, and the Russian Doll model of multi-walled carbon nanotubes.
The onion metaphor is of similar character. If the outer layer is peeled off an onion, a similar onion exists within. This structure is employed by designers in applications such as the layering of clothes or the design of tables, where a smaller table nests within a larger table, and a smaller one within that.
Helena Goscilo is Professor of Slavic at the Ohio State University, where she earlier served as Departmental Chair. Her publications range from articles on fashion, music, art, graphics, celebrities, film, and literature to books on contemporary Russian culture. Most recently she has co-edited a collection on Russian Aviation, Space Flight, and Visual Culture (Routledge 2017) and a cluster of articles on the St. Petersburg artistic movement called Neoacademism (2019). Currently she is working on a monograph titled Graphic Ideology: From Stalin to Yeltsin and a volume on contemporary Polish film.
Event Sponsor
Russian@UH , Mānoa Campus
More Information
James Owen, (808) 250-2055, cjowen@hawaii.edu, https://www.facebook.com/events/2227014834219961/
---
Wednesday, March 27

10:30am

CCBAC's Preserving Paradise

Mānoa Campus, Campus Center Courtyard
10:30am

Corset Design & Branding by Randy Oribello & Jacky Lau

Honolulu Campus, Building #27, Room #206
11:00am

Theatre Final Oral

Mānoa Campus, Kennedy Theatre
12:00pm

Molecular Biosciences & Bioengineering Final Oral

Mānoa Campus, UHCC
12:00pm

ICS Speaker Series: "Territorializing the Pacific Ocean" by ICS Research G

Mānoa Campus, Burns Hall 2118
12:00pm

ʻIke Huli Kānaka - Konia Freitas

Mānoa Campus, Dean Hall - Room 5/6
12:00pm

Tropical Medicine Final Oral

Mānoa Campus, MEB 304
12:30pm

Master Class with Eddie Oroyan

Mānoa Campus, UHM Dance Building Dance Studio
12:30pm

Nursing Practice Final Oral

Mānoa Campus, Webster 423
1:30pm

Talk Story With UH Hilo

Honolulu Campus, Academic Counseling: Building 5, Room 102
2:00pm

International Pacific Research Center Seminar

Mānoa Campus, POST 414
3:00pm

Economics Final Oral

Mānoa Campus, Saunders 515
3:30pm

The Matryoshka Doll as Symbol of National Identity

Mānoa Campus, 252 Moore Hall
3:30pm

Guest Lecture by Helena Goscilo: "The National Identity of the Matryoshka Do

Mānoa Campus, Moore Hall 252
4:00pm

LGBTQ+ Coffee Hour

Mānoa Campus, Queen Liliuokalani Center 208