Reading by Stacey Waite
April 16, 7:00pm - 9:00pm
Mānoa Campus, 410 Kuykendall Hall
---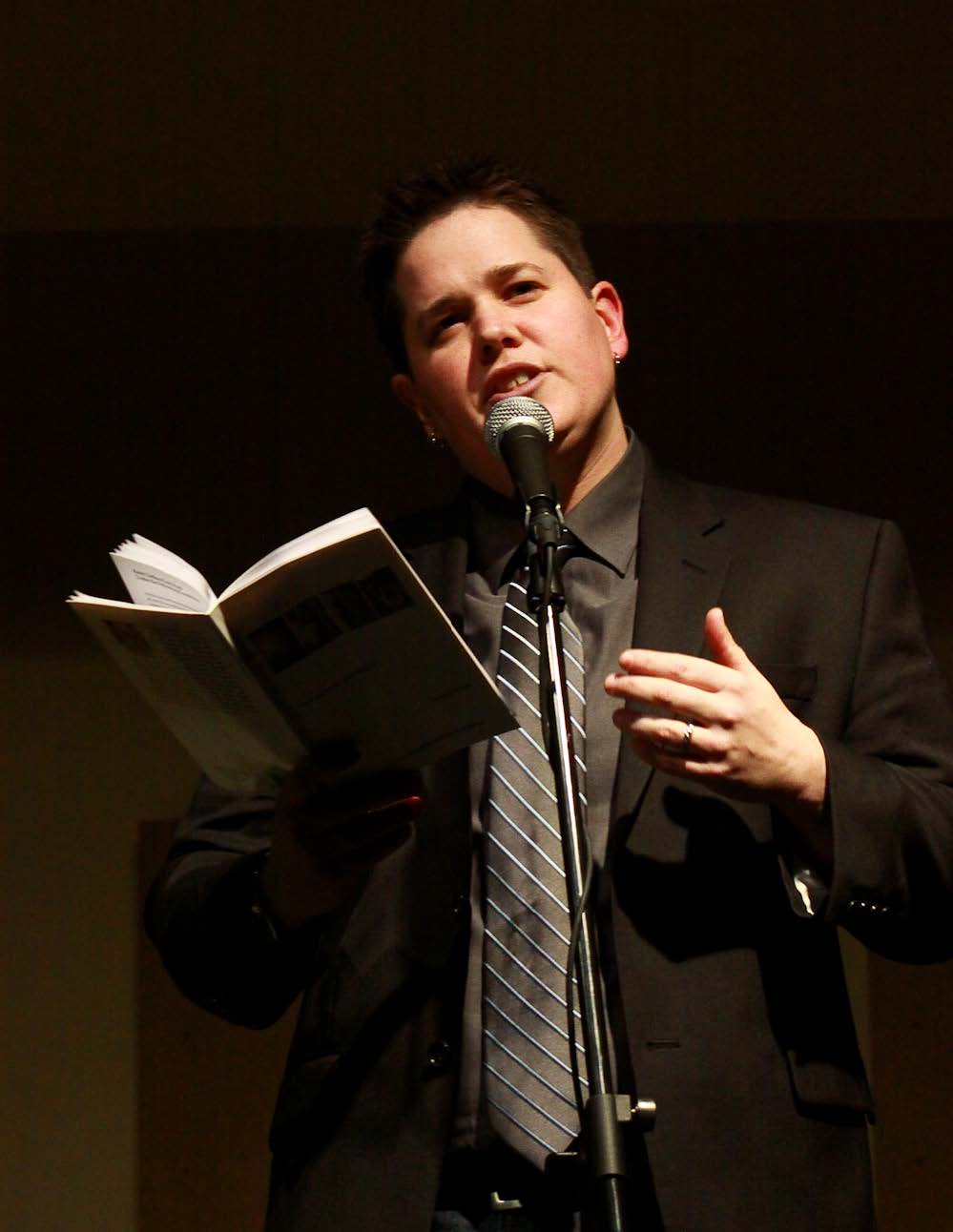 Join us in celebrating National Poetry Month with poet-scholar STACEY WAITE!
Stacey Waite is Associate Professor and Graduate Chair of English at the University of Nebraska-Lincoln. Waite's most recent book, "Teaching Queer: Radical Possibilities for Writing and Knowing," was published by University of Pittsburgh Press in 2017. Waite's newest scholarly project, "The World as We Wish it Were: Speech Acts, Performance, and the Question of What Matters in the Teaching of Writing," was the recipient of a $10,000 community partnership grant and is a manuscript-in-process. Waite has also published four collections of poems: "Choke," "Love Poem to Androgyny," "the lake has no saint," and "Butch Geography," and has had articles appear most recently in College Composition and Communication, Writing on the Edge, and Literacy in Composition Studies.
Joining Stacey is guest poet J. VERA LEE, a Ph.D. student in the Creative Writing Program at UH Mānoa. She was born in Seoul, Korea, and grew up in Meadville, Pennsylvania. She was educated at the University of California, Berkeley, and the University of Washington. Her work has appeared in the following: American Letters & Commentary, Chicago Review, Colorado Review, Denver Quarterly, and Poetry Daily.
Books will be for sale at the event, courtesy of the UH Mānoa Bookstore.
Campus parking is $6.00
Ticket Information
Free and Open to the Public
Event Sponsor
UHM SEED Ideas, UHM Creative Writing Program, UHM Phi Beta Kappa, UHM LLL Dean's Special Fund, Mānoa Campus
More Information
Shawna Yang Ryan, (808) 956-3071, slryan@hawaii.edu
---
Tuesday, April 16

12:00pm

WRRC/'Ike Wai Seminar

Mānoa Campus, HIG 210
12:00pm

Ke Welo Mau Nei 2019

Mānoa Campus, Sakamaki Hall, Room D101
12:00pm

A Tale of Two City Funds: American Cities Climate Challenge

Mānoa Campus, 1601 East-West Road, John A. Burns Hall, Room 3121/3125 (3rd Floor)
12:30pm

Introduction to Structured Query Language (SQL)

Honolulu Campus, 874 Dillinghan Blvd
1:00pm

East-West Toastmasters Leadership/Public Speaking Club Meeting

Mānoa Campus, Campus Center 309
1:30pm

Political Science Final Oral

Mānoa Campus, Saunders 704
4:00pm

Teacher! Teacher!

Mānoa Campus, Architecture Auditorium, 2410 Campus Road, Honlulu
4:00pm

Teacher! Teacher!

Mānoa Campus, UHM Architecture Auditorium
4:00pm

Law School Information Session

Mānoa Campus, 2515 Dole Street, Seminar Room 4
5:30pm

Mana Lāhui Kānaka

Mānoa Campus, Gartley Hall RM 103, 2430 Campus Rd Honolulu, HI 96822
5:30pm

FOF Fourth General Meeting

Mānoa Campus, UH Manoa Hemenway Hall 204
5:30pm

FOF General Meeting

Mānoa Campus, UH Manoa Hemenway Hall 204
7:00pm

Reading by Stacey Waite

Mānoa Campus, 410 Kuykendall Hall