Pia Ruisi-Besares on experimental restoration of Cyrtandra kaulantha
May 1, 11:00am - 12:00pm
Mānoa Campus, Lyon Arboretum (3860 Manoa Rd)
---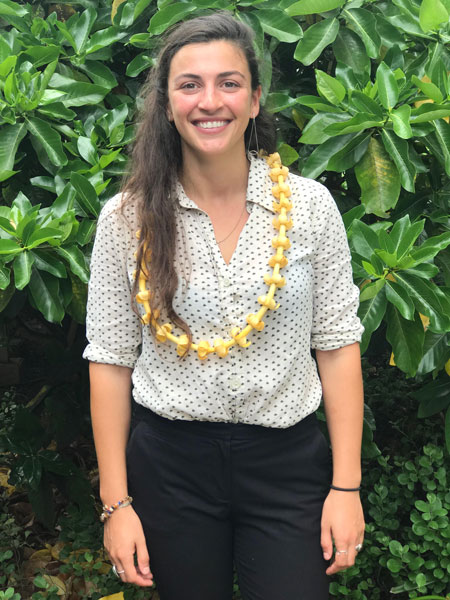 Pia Ruisi-Besares: Experimental restoration of Cyrtandra kaulantha (Haʻiwale).
Optimal growth conditions for rare Hawaiian plants are largely unknown, making the results of restoration efforts unpredictable. We grew plants in the greenhouse under different local soil treatments and compared differences in growth once outplanted. Understanding the potential relationship between plant growth and local soil composition can help inform best practices for restoration of native species.
Part of the Brown Bag Lunch series. Open to all, 11 am – noon at our Visitors Center.
Come hear about research by current and recent University of Hawai'i botany students! Bring your brown bag lunch and your hungry brain.
Ticket Information
Free, open to all. For more information, call Emily Grave, Laukahi Network Coordinator, (808) 988-2993.
Event Sponsor
Lyon Arboretum, Mānoa Campus
More Information
Emily Grave, (808) 988-2993, https://manoa.hawaii.edu/lyonarboretum/calendar/brown-bag-lunch-pia-ruisi-besares-on-experimental-re
---
Wednesday, May 1

8:00am

Summer School Priority Application Deadline

West Oʻahu Campus, Office of Admissions
11:00am

Pia Ruisi-Besares on experimental restoration of Cyrtandra kaulantha

Mānoa Campus, Lyon Arboretum (3860 Manoa Rd)
12:00pm

ORE Seminar: An Overview of Recent Projects at the Water Research Laboratory

Mānoa Campus, Watanabe 112
12:30pm

MUSIC @ART - Free Lunchtime Concerts, Spring 2019

Mānoa Campus, Art Building, ground floor breezeway by the Galleries
12:30pm

Cell & Molecular Biology Final Oral

Mānoa Campus, JABSOM MEB Access Grid Room 202
1:00pm

Earth Sciences (GG 499) Undergraduate Thesis Presentation: Theodore Brennis

Mānoa Campus, POS 723
3:30pm

ORE MS Plan B presentation: Hydroelasticity of the Inflatable Assault Craft

Mānoa Campus, Marine Science Building 114
4:00pm

LGBTQ+ Coffee Hour

Mānoa Campus, Queen Liliuokalani Center 208
7:00pm

The Democratic Power of History from Below

Mānoa Campus, Art Auditorium
7:30pm

Yoomee Baek, composer (doctoral recital)

Mānoa Campus, Orvis Auditorium