Francis Haar: Disappearing Honolulu
September 15, 2019 - December 6, 2019
Mānoa Campus, John Young Museum of Art
---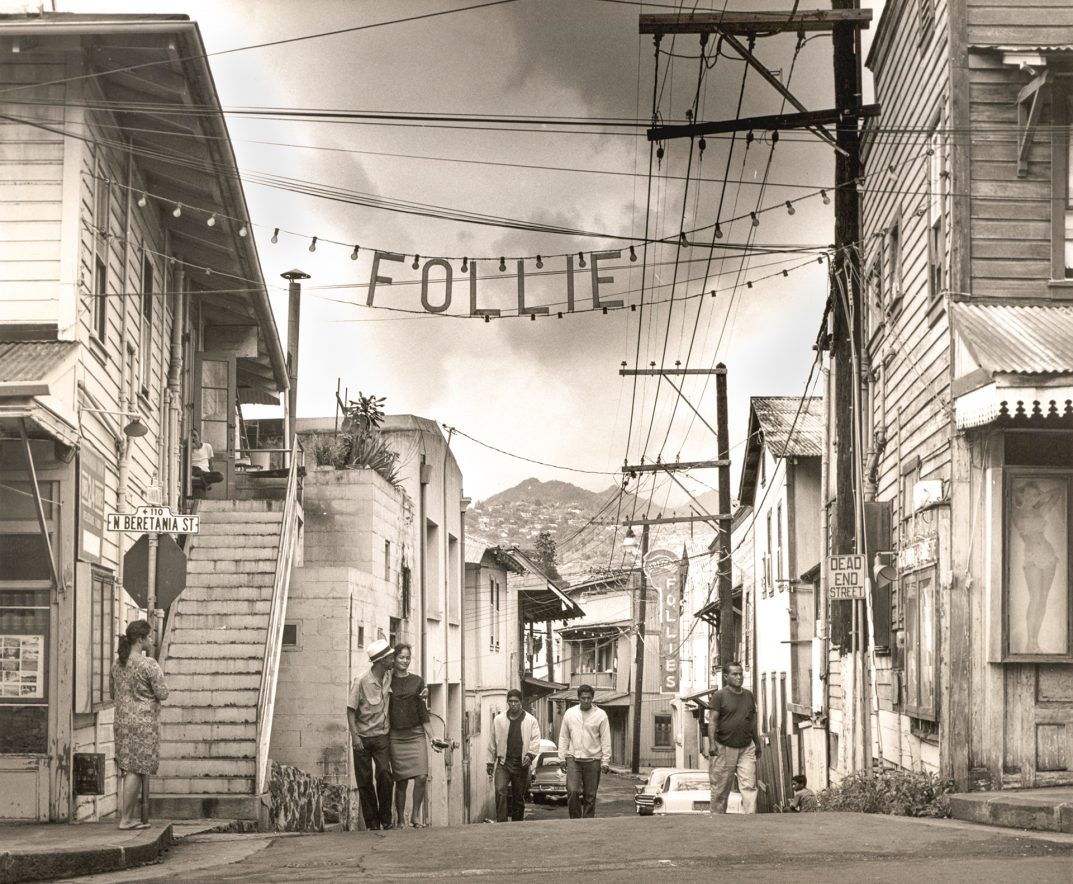 Sunday, September 15
2:00 - 3:00 p.m., Gallery walkthrough with exhibition curator + researchers
3:00 - 5:00 p.m., Opening Reception
"Disappearing Honolulu" takes its title from a project undertaken by Francis Haar in the late 1960s. Haar's photographs and film are valuable documents of a not so distant past that capture one of Honolulu's diverse, multicultural communities in the midst of urban displacement – themes that remain relevant today as Honolulu undergoes another period of transformation. Approximately 40 black and white silver gelatin prints will be accompanied by a continuous digital projection of the film, "Aala – Life and Death of a Community."
The works included in this exhibition are a part of UH Manoa's Hamilton Collections. An exhibition brochure will be produced on the occasion of the exhibition.
Ticket Information
Gallery hours: Sun. – Fri. 12:00–4:00. Closed Sat. & holidays. Admission is free. Donations are appreciated. Parking fees may apply.
Event Sponsor
Art + Art History, Mānoa Campus
More Information
Sharon Tasaka, (808) 956-8364, tasakas@hawaii.edu, https://hawaii.edu/art/francis-haar-disappearing-honolulu/
---
Thursday, September 19

12:00am

UHWO Governmental Internship Info Session

West Oʻahu Campus, 'Ulu'ulu Archives Exhibition Space, UHWO Campbell Library
11:00am

How to Use Laulima Workshop

Honolulu Campus, Building 5, Room 203
11:00am

Teaching and Researching Around the World

Mānoa Campus, ITC 105 A
12:00pm

Brown Bag Biography: Mehana Vaughan

Mānoa Campus, Kuykendall 410
1:00pm

Study Abroad Info. Meeting - Semester in Florence, Italy

Mānoa Campus, Dean Hall Room 9
2:00pm

Study Abroad Info. Meeting - Semester in Seville, Spain

Mānoa Campus, Dean Hall Room 9
3:00pm

Oceanography Seminar - Joe O'Callaghan

Mānoa Campus, Marine Science Building 114
4:45pm

Truman Scholarship Info Session

Mānoa Campus, Sakamaki Hall B101
5:00pm

6th Annual UH Cancer Center Prostate Cancer Forum

Mānoa Campus, UH Cancer Center, 701 Ilalo Street
6:00pm

Oral History Podcast & Talk Story: Ka Po'e Kau Lei-Hawai'i's Lei Sellers

Windward Campus, Hale A'o 101 & 102
6:30pm

Hanauma Bay Educational Lecture Series

Hanauma Bay Visitor Center
7:00pm

Viet Thanh Nguyen, "War, Refugees, and Storytelling"

Mānoa Campus, Orvis Auditorium
7:30pm

Archaeology Lecture: Feeding the Roman Empire

Mānoa Campus, Art Auditorium
Other UH Calendars
Submit Events
Last modified August 08, 2019
Back To Top