SCEP Live Online with Storyteller Dave Del Rocco
May 22, 10:30am - 11:30am
Mānoa Campus, Hosted by Kaunoa Senior Center Online
---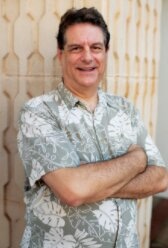 Outreach College's Statewide Cultural Extension Program (SCEP), in collaboration with community organizations, is moving its programs online to present local artist performances to diverse audiences via Zoom.
Dave Del Rocco has been a student of the Hawaiian language for many years and translated 13 children's books into Hawaiian for the Department of Education's Immersion Program. The Hawai'i Book Publishers Association awarded one of his translated books, The Shark Man of Hana, the 2005 Ka Palapala Po'okela Award for excellence in children's Hawaiian culture. Dave worked as a librarian for the Hawai'i State Public Library System for nearly 18 years, 12 of those as a children's librarian. He was selected as Hawai'i's Public Librarian of the Year for 1998. He is now working as a Hawaiian Culture and Social Studies teacher at Punahou School.
For this performance, Dave will be reading Stories of Hawaii and the World.
Event Sponsor
Outreach College Community Services, Mānoa Campus
More Information
Outreach College, 8089568246, csinfo@hawaii.edu, https://outreach.hawaii.edu/scep/default.asp
---