Carissa Rodriguez: The Maid
October 4, 2020 - December 10, 2020
Mānoa Campus, The Art Gallery, Art Building
---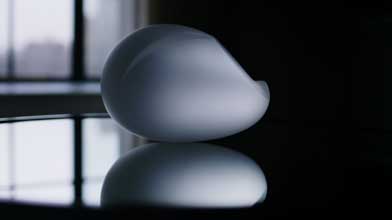 The Art Gallery, University of Hawaii at Manoa, is proud to present "Carissa Rodriguez: The Maid." Carissa Rodriguez examines the material and social conditions in which art is produced and reveals how the canonical figure of the artist is reflected in—and reproduced by—the products of her labor. Rodriguez's solo exhibition, which premiered at Sculpture Center in January, 2018, featured a newly commissioned video work titled "The Maid" (2018). This exhibition was subsequently presented at the MIT Visual Arts Center, Cambridge, MA (2018), the Walker Art Center, Minneapolis (2019), and The Art Institute of Chicago (2020).
"The Maid" follows a selection of American artist Sherrie Levine's Newborn sculptures throughout the course of a day in various residences, private and institutional, from New York to Los Angeles. Levine made the works in crystal and black cast glass in the early 1990s, molding them after Constantin Brancusi's marble and bronze sculptures of the same name from 1915 and 1920. By featuring not only Levine's sculptures, already appropriations of another artist's work, but also capturing their contemporary environments, Rodriguez engages the conditions and settings in which art circulates, proposing that the futures of artworks are inherently speculative.
Rodriguez also presents "The Girls" (1997–2018), a video that depicts children at a playground in New York's Chinatown in the 1990s, the location of intense gentrification at the time the video was completed. Also on view is "All the Best Memories Are Hers (2018), five photographs of embryos at a fertility clinic.
*Currently the UH Manoa campus is open to the campus community but closed to the general public due to the pandemic. Please check https://manoa.hawaii.edu/moving-forward/visitor-faqs/ for more info. The gallery and exhibition is practicing covid-19 restrictions as approved by UH Manoa officials.
Image: "Carissa Rodriquez: The Maid," 2018. Courtesy the artist and Karma International, Zurich/Los Angeles.
Ticket Information
Admission is free. Following current covid-19 protocols. Gallery hours: Mon. – Thur. 11:00 a.m. – 4:00 p.m.; Sun. 12:00 – 4:00 p.m.; Closed Fri., Sat., Election Day, Nov. 3; Veterans Day, Nov. 11, and Thanksgiving, Nov. 26 & 27.
Event Sponsor
Art & Art History, Mānoa Campus
More Information
Sharon Tasaka, 808-956-8364, gallery@hawaii.edu, https://hawaii.edu/art/carissa-rodriguez-the-maid/
---