"A Rose by Any Other Name…": An Intro to Plant Identification and Evolu
February 27, 9:00am - 11:00am
Mānoa Campus, Lyon Arboretum, 3860 Manoa Rd
---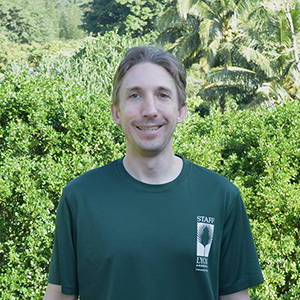 "A Rose by Any Other Name…": An Introduction to Plant Identification and Evolution
The diversity of the natural world is often overlooked. This is especially true when it comes to plants. Many just see a wall of green when they look outside or walk around the Arboretum. This phenomenon has been termed "Plant Blindness." However, there is a remedy for this affliction!
The Arboretum is offering an introduction to plant identification and evolution. Taught by Lyon's own plant systematist and Botanical Gardener, Jesse Adams, this course will give you the basics required to understand basic plant anatomy, know select major plant families on sight, and use a dichotomous key. Additionally, students will learn how to collect and make their own herbarium specimen!
This is a three-part course. The first session is a two hour stand-alone class for those who want an introduction to plants and taxonomy. However, if you would like to attend the other two sessions, students must sign up for all three.
WHEN: SESSION 1 February 27th , 9 am - 11 am; SESSION 2 March 6th, 9 am - 11 am; SESSION 3 March 13th, 9 am - 11 am
COST: $20 for Session 1, or $60 for the 3-part course (no supply fee)
TO SIGN UP, see our website (below, under 'more information')
Ticket Information
Sign up information is available on our website: https://manoa.hawaii.edu/lyon/2021/02/04/spring_2021_community_classes/
Event Sponsor
Lyon Arboretum, Mānoa Campus
More Information
Derek Higashi, 808-988-0456, higashi2@hawaii.edu, https://manoa.hawaii.edu/lyon/2021/02/04/spring_2021_community_classes/
---