Remotely Kyogen: Comedy Under the (virtual) Stars
April 30, 7:30pm - 9:30pm
Mānoa Campus, 1770 East West Road
---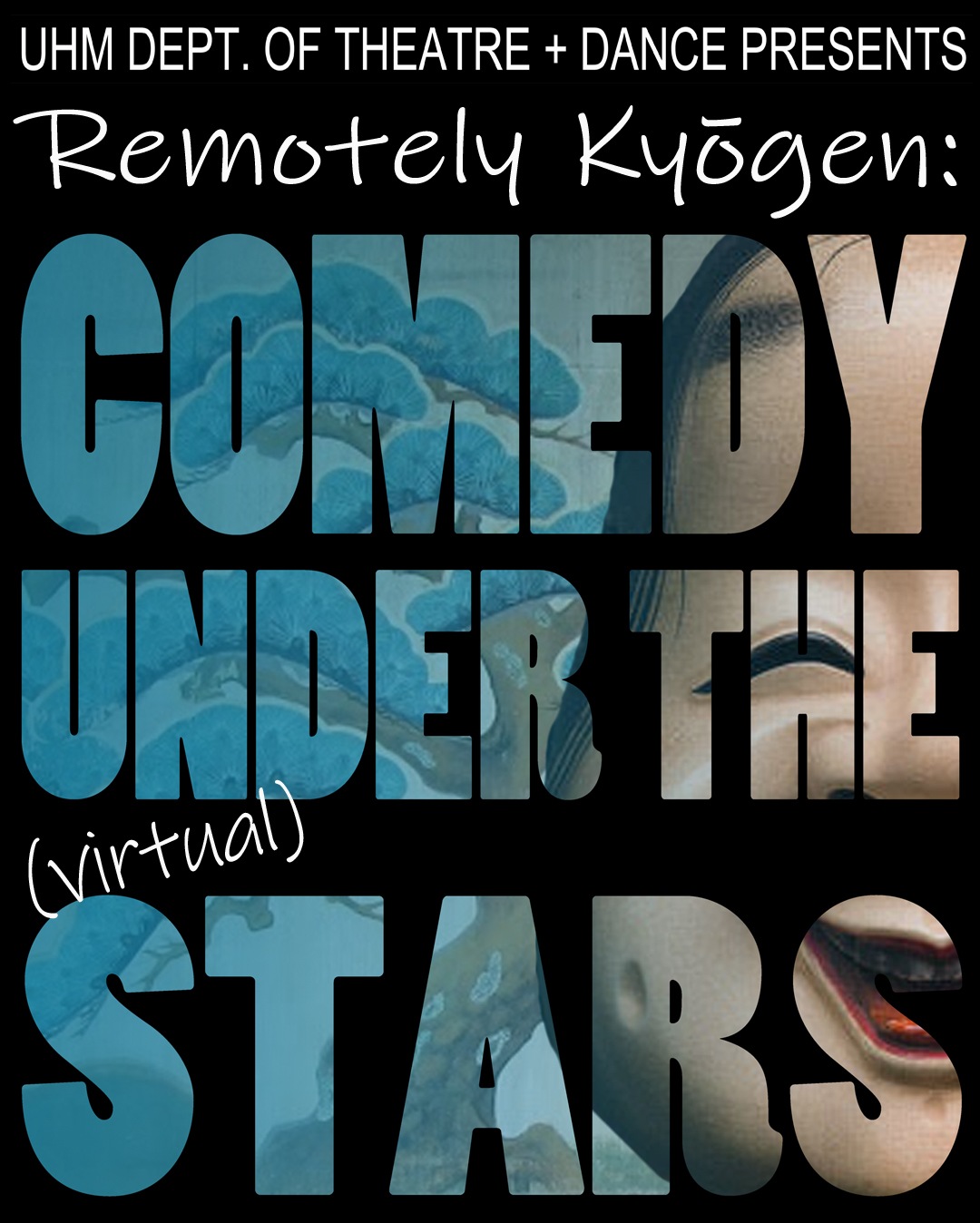 Remotely Kyogen: Comedy Under the (virtual) Stars
PRESENTED ONLINE
April 23-24, 30 & May 1-2, 2021
FRI/SAT 7:30pm
SUN 2:00pm
Master Kyogen Advisor: Sennojo Shigeyama III Developed & Directed by Julie A. Iezzi & a student collective
A program of smiles and laughter designed to uplift community spirit with classics and new plays inspired by kyogen, a beloved Japanese comical theatre form. Known for poking fun at those in power, kyogen has delighted and entertained audiences for over 600 years. Revel in the endurance and adaptability of this comic genre while bringing much needed joy and laughter to our community. Program includes educational entertainment interludes between the plays presented. Presented online.
This project was funded, in part, by the U.S. Department of Education, Title VI National Resource Center for East Asia, University of Hawai'i, 2020-2021, the Office of the Chancellor, University of Hawai'i at Manoa, and the UHM Student Activity and Program Fee Board.
ADVISORY: "Earthbound" may include flashing lights.
TICKETS Special Streaming Discount
$15 Adult
$10 Discount Groups (UH Faculty/Staff, Seniors, Military, Youth, Non-UHM Students)
$5 UHM Student with valid Spring 2021 UHM ID
Ticket Information
https://www.showtix4u.com/event-details/44135
Event Sponsor
Theatre + Dance, Mānoa Campus
More Information
Kennedy Theatre Box Office, 808-956-7655, ktbox@hawaii.edu, https://manoa.hawaii.edu/liveonstage/kyogen2021/
---
Friday, April 30

9:15am

Spring Undergraduate Showcase (Virtual)

Mānoa Campus, via Zoom
11:00am

Library Treasures Scholarships Presentations by the Fall 2020 Winners

Mānoa Campus, Hamilton Library/ Zoom
1:00pm

Women in Data Science (WiDS) Hawai'i 2021

Mānoa Campus, Zoom
1:30pm

BAM (BA+MEdT) Information Session

Mānoa Campus, Virtual - Zoom
2:00pm

Nursing Practice Final Oral

Mānoa Campus, Zoom
2:00pm

What's Next! The Peer Mediation Adventure Continues, Closing Panel

Mānoa Campus, Online
3:30pm

Marine Biology Final Oral

Mānoa Campus, Zoom - please contact emhenley@hawaii.edu for Zoom info
3:30pm

Earth Sciences Seminar

Mānoa Campus, Zoom Webinar
4:30pm

Entrepreneurship Live with Tetsuya O'Hara

Mānoa Campus, Zoom
7:30pm

Remotely Kyogen: Comedy Under the (virtual) Stars

Mānoa Campus, 1770 East West Road
9:30pm

Running Out the Clock: a digital festival of student-written shorts

Mānoa Campus, 1770 East West Road