SCEP Live Online: Storyteller Margaret Read MacDonald
May 5, 10:00am - 10:45am
Mānoa Campus, Hosted by Kaunoa Senior Center Online
---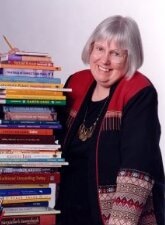 Born and raised in Southern Indiana, Margaret will share personal tales. MacDonald is author of over 66 books drawing on her experience as a children's librarian and traveling storyteller and her PhD in folklore studies. MacDonalds books include Peace Tales, Teaching with Story and Pickin' Peas.MRM has performed and taught workshops in schools and festivals around the world. (Argentina, Brazil, Colombia, Cuba, Jamaica, Mexico, Kenya Egypt, Austria, Belgioum Poland, Spain, the Philippines.)
May 4: Borneo Tales Margaret Read MacDonald shares magical Kadazan-Dusun tales from the island of Borneo.
May 5: One tale two continents and beyond Margaret Read Macdonald tells and discusses three versions of Type 513 Extraordinary Companions. Chet Huat Chet Hai, a Thai mythological tale, Hardy HardAss, an Appalachian variant, and the Tongan tale, Lasa's Canoe.
May 6: Attempted romances A girl follows a snake-man into the forest, a young man cuts off a monster's tail to please a girl; a proud girl requires any man who woes her to wrestle her in a vat of palm oil.
Event Sponsor
UH Manoa Outreach College, Mānoa Campus
More Information
Outreach College, 8089568246, csinfo@hawaii.edu, https://www.outreach.hawaii.edu/events/storyteller-margaret-read-macdonald/
---
Wednesday, May 5

10:00am

SCEP Live Online: Storyteller Margaret Read MacDonald

Mānoa Campus, Hosted by Kaunoa Senior Center Online
12:00pm

Education Final Oral

Mānoa Campus, https://hawaii.zoom.us/j/97195320236 Meeting ID: 971 9532 0236
12:30pm

Social Justice and Connectivities: Dance in/beyond Contemporary Asia

Mānoa Campus, Online via Zoom
2:00pm

Career Series: Conquer the Job Interview

Kapiʻolani Campus, Live Zoom Presentation
2:00pm

Butterfles and Birdsong: On Radical Listening with Julian Aguon & Maya Soetoro

Mānoa Campus, Online
3:30pm

Atmospheric Sciences Dual Seminar

Mānoa Campus, Virtual Meeting
4:00pm

LGBTQ+ Student Coffee Hour

Mānoa Campus, On Zoom
4:00pm

UH Venture Competition Finals

Mānoa Campus, Zoom
7:00pm

Brandt Webinar, Polynesian Ancestral Knowledge

Mānoa Campus, https://bit.ly/brandtweb