Lauhala Weaving with Wesley Sen: Small Mat
March 5, 9:00am - 10:00pm
Mānoa Campus, Lyon Arboretum, 3860 Manoa Rd
---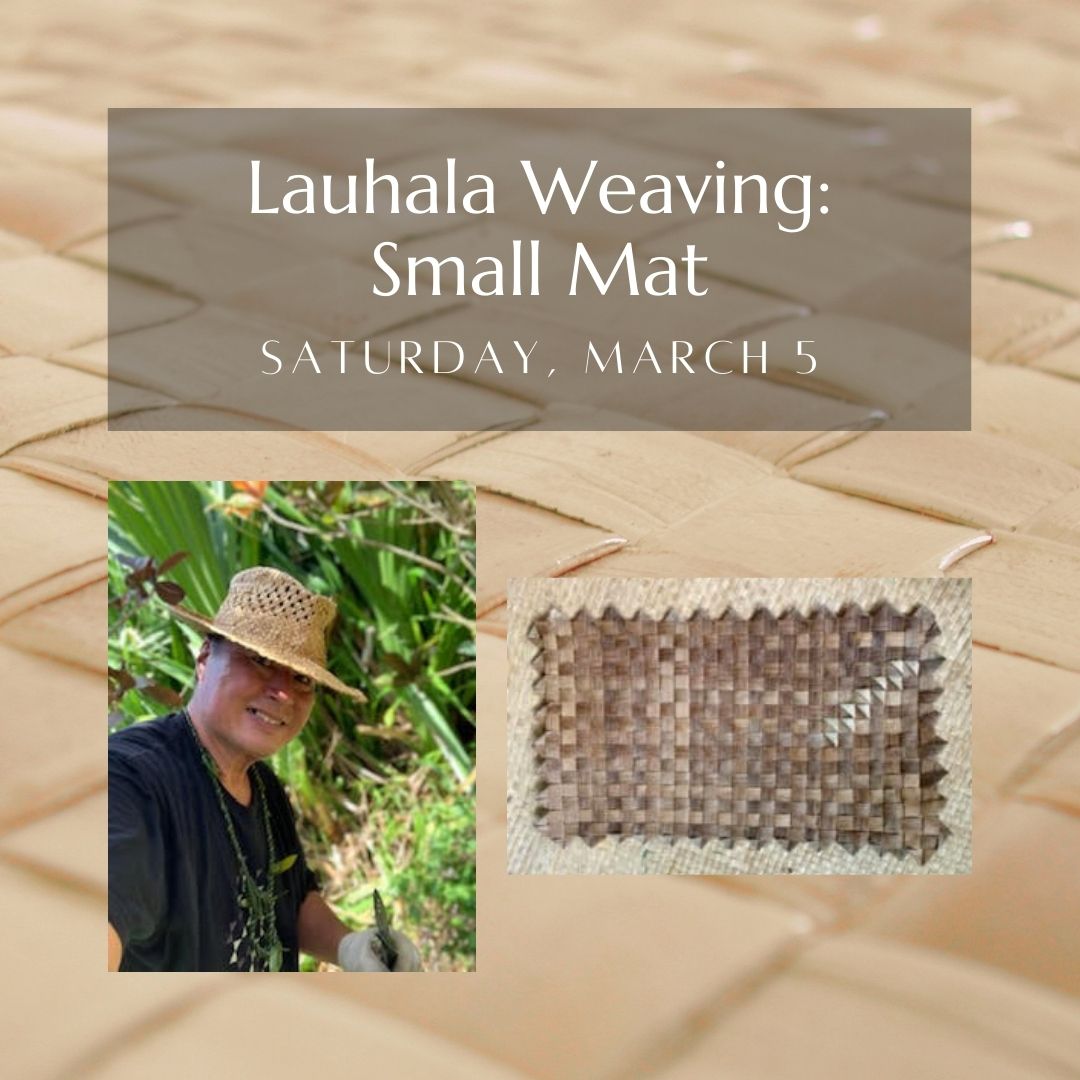 Join Wesley Sen as he guides us on how to make a small lauhala mat! The skills learned in this lesson can be used to make a placement or coaster.
Wesley Sen was mentored by Beatrice Krauss 40 years ago and introduced to Native Hawaiian weavers at a conference at the Lyon Arboretum. Wesley was initially taught by his friend's grandmother Julia Puou of Opihihale South Kona on how to weave a basket and a hat. Today, Wesley teaches lauhala and Kapa making classes at Ka Papa Loʻi O Kānewai back of UH Hawaiian studies.
We are offering two ways to attend: in-person and online. Online students will participate via Zoom (an email will be sent out the day before with the Zoom meeting link). In-person students will attend the class at Lyon Arboretum and must adhere to our COVID19 safety policies (detailed below). Please be sure to specify whether you would like to attend in person or online. Mahalo!
Materials pickup: All students who sign up for virtual (Zoom) attendance should plan to pick up their materials kit at the Lyon Arboretum Visitors Center on Monday, February 28, between 9:00 am - 3:00 pm.
COVID19 safety note: All attendees must be masked during the class. All attendees must use LumiSight UH to provide acceptable proof of full vaccination or a negative test that meets UH's guidelines. See below for more information about our COVID-19 safety guidelines. Failure to comply will result in inability to attend the class, and a refund may not be issued.
WHEN: Saturday, March 5, 2022, 9:00 am - 10:00 am
COST: $30 in person or $25 online only
TO SIGN UP, see our website (below, under 'more information')
Ticket Information
Sign up information is available on our website: https://manoa.hawaii.edu/lyon/2022/01/10/spring-2022-community-class-schedule/
Event Sponsor
Lyon Arboretum, Mānoa Campus
More Information
Derek Higashi, 8089880456, higashi2@hawaii.edu, https://manoa.hawaii.edu/lyon/2022/01/10/spring-2022-community-class-schedule/
---
Saturday, March 5

8:00am

Mock DAT/GRE

Mānoa Campus
8:00am

Mock MCAT

Mānoa Campus
9:00am

Lauhala Weaving with Wesley Sen: Small Mat

Mānoa Campus, Lyon Arboretum, 3860 Manoa Rd
9:00am

Bankruptcy Law

Mānoa Campus, Online via Zoom
9:00am

Pili ka Moʻo: Celebrating Chuck Lawrence's Legacy on Struggles for Justice

Mānoa Campus, Zoom
10:00am

2022 LaunchPad - An International Language Education Technology Competition

Mānoa Campus, Online
7:30pm

Looking for Tiger Lily – A Multimedia Drag Experience

Windward Campus, Palikū Theatre, 45-720 Keaahala Rd, Kaneohe, HI 96744