Makenzie Davis MFA Thesis Exhibition
April 3, 2022 - April 14, 2022
Mānoa Campus, Art Building, Commons Gallery
---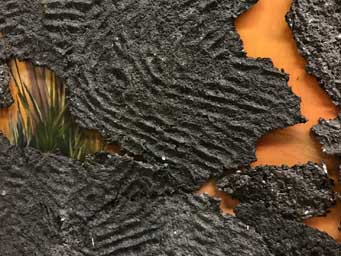 The Department of Art and Art History, UHM, is proud to highlight Makenzie Davis, one of its six MFA candidates in 2022. Davis presents her MFA thesis exhibition.
MFA Thesis Defense
Friday, April 8, 2022, 4:00 p.m. via Zoom
(Info & links TBA, go to the website below)
Makenzie Davis's "Deep Time" uses paint and handmade paper pulp to envision an environment where geologic deep time is observed in mythology, mo'olelo, and memory. The installation consists of a monumental twenty-four-foot-long painting on paper that suggests landscapes. Five sculptural paper columns refer to both the notion of axis mundi, and contemporary phenomena like lava trees and urban utility poles. Each component emphasizes a geologic perspective that fosters a sense of deep time within the human experience.
Makenzie Davis (b. Lyons, Colorado) received her BFA from Colorado State University (2017). Previous exhibitions include Ekahi Elua (2022) and Soft Insides (2021), GRRIC Contemporary, University of Hawai'i at Mānoa (UHM), and the Drawing National Juried Exhibition (2020), Dallas Metro Arts Contemporary. Davis taught Introduction to Drawing at UHM as a graduate assistant.
Information, dates, time are subject to change.
Image: Makenzie Davis, "Deep Time," 2022 (detail). Courtesy of the artist.
Ticket Information
Following current covid-19 protocols. Gallery hours: Sun.–Thur. 12:00 p.m.–4:00 p.m.; Closed Fri., Sat. Viewable through gallery windows.
Event Sponsor
Art & Art History, Mānoa Campus
More Information
Sharon Tasaka, 808-956-8364, gallery@hawaii.edu, https://hawaii.edu/art/2022-leonard-everett-noordhoff-naeem-davis-talamantez/
---