Public Health Graduate Programs Virtual Info Session
October 28, 12:00pm - 1:00pm
Mānoa Campus, Virtual on Zoom
---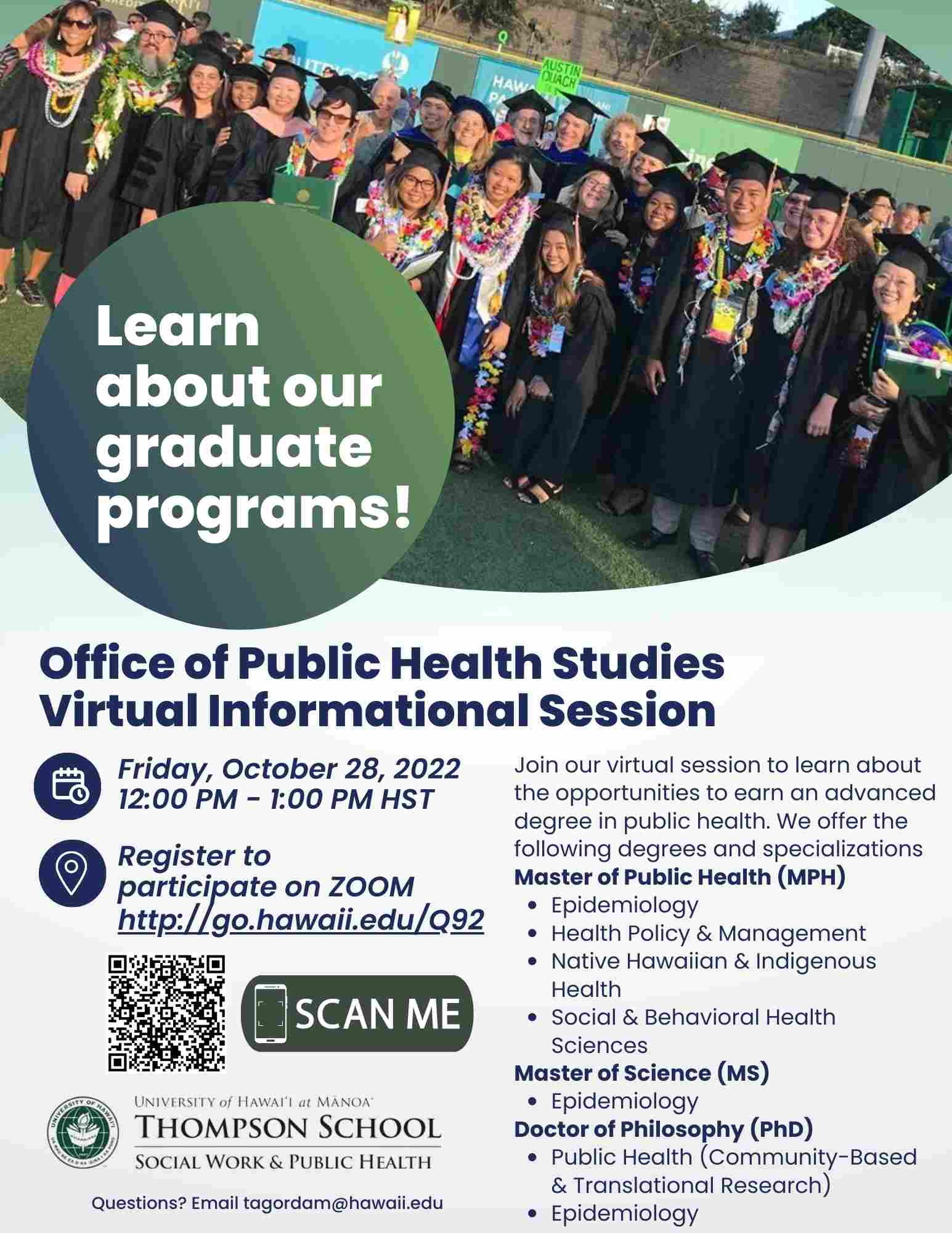 Join our virtual session to learn about the opportunities to earn an advanced degree in public health.
Ticket Information
Register to receive the zoom link to attend: http://go.hawaii.edu/Q92
Event Sponsor
Office of Public Health Studies , Mānoa Campus
More Information
Michelle Tagorda-Kama, 808-956-5753, tagordam@hawaii.edu, http://manoa.hawaii.edu/publichealth/
---
Friday, October 28

7:30am

Water Resilience in Hawai'i: A UH Innovation Conference

Hawai'i Convention Center
9:00am

Nippon Culture Day

Mānoa Campus, Campus Center Ballroom
10:00am

Got Kids? Drop In & Talk Story with the Student Parents @ Mānoa Program

Mānoa Campus, Drop-Ins Encouraged! QLCSS 412
10:00am

Public Health Final Oral

Mānoa Campus, Biomedical Building D207
12:00pm

Public Health Graduate Programs Virtual Info Session

Mānoa Campus, Virtual on Zoom
1:30pm

Yoga for Stress Relief: All Levels Yoga Class

Mānoa Campus, Kuykendall 106 Events Room
3:00pm

Architecture Final Oral

Mānoa Campus, Zoom Video Conferencing, Link Below
7:30pm

Dmytro Choni, 2022 Van Cliburn International Piano Competition Medalist

Mānoa Campus, 2411 Dole St.