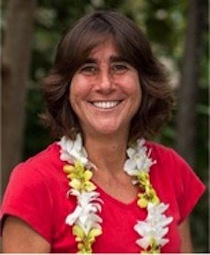 Barbara Cabezal Bruno
Specialist

Hawai'i Institute of Geophysics and Planetology (HIGP), UH Mānoa
Contact Info:
barb@hawaii.edu
Hawai'i Institute of Geophysics and Planetology (HIGP) School of Ocean & Earth Science & Technology (SOEST) University of Hawai'i, Mānoa
Background
Barbara Bruno holds undergraduate degrees in Mathematics (BA) and Geological Sciences (BS) from Brown University, and MS and PhD degrees in Geology and Geophysics from the University of Hawai'i, Mānoa. Dr. Bruno is a Faculty Specialist at the Hawai'i Institute of Geophysics and Planetology (HIGP). She serves on the Graduate Faculty of the Department of Geology & Geophysics, the Department of Oceanography, and the College of Education, all at the University of Hawai'i, Mānoa. She is currently Principal Investigator on several active projects aimed at engaging Hawai'i's undergraduates in geoscience majors, research experiences and careers, funded by both the National Science Foundation and private foundations. Her broad and diverse career has included mathematical research and development in the private sector, planetary volcanology research, undergraduate teaching in geology and physics, community outreach and professional development. She has 37 peer-reviewed publications and 8 additional publications.
Role in ʻIke Wai
In 2016, Dr. Bruno joined the Hawai'i EPSCoR team as Co-Principal Investigator and Education Director. She directs a variety of research, professional development and mentoring initiatives for students and scientists. Key goals include developing a diverse local STEM workforce, creating a cadre of well-trained faculty mentors, and nurturing leaders among graduate students and post-docs. In 2017, she was awarded the Dr. Amefil Agbayani Faculty Diversity Enhancement Award.
Service
American Geophysical Union (AGU). Numerous roles, including Advisory Committee member, Honors and Awards committee member, and Ask-an-Expert panelist on geoscience education.
Fieldtrip leader for various conferences, including Association for the Sciences of Limnology and Oceanography (ASLO) and the Society for the Advancement of Chicanos and Native Americans in Science (SACNAS).
Co-founded the SOEST Maile Mentoring Bridge, and served as program director until 2017.
Organizes and leads the annual KCC-SOEST summer bridge program.