The Hawaiʻi Papa O Ke Ao (January 2012) set goals and objectives to address the higher education needs of our indigenous people – Native Hawaiians – by creating a model indigenous serving institution. Characteristics of a model indigenous serving institution in Hawaiʻi is as follows:
Hawaiian enrollment at parity with Hawaiians in the

Hawaiʻi

state population.
Hawaiian students performing at parity with non-Hawaiians = success.
Number of tenured Hawaiian faculty increase by 25% each year.
Gauges its effectiveness in including Native Hawaiian values in its decision making and practices.
Hawaiians hold leadership roles in the UH administration.
The University of

Hawaiʻi

is the foremost authority on Native Hawaiian Scholarship.
The university is responsive to the needs of the Hawaiian community and, with community input, implements programs to address these needs.
The University fosters and promotes Hawaiian culture and language at all its campuses.
This report has 3 thematic goals with objectives listed under each goal. The three goals are:
Leadership Development
Community Engagement
Hawaiian Language and Cultural Parity
The objectives of this 2012 plan are purposefully broad to allow for campuses to use this plan as a framework to create individual plans that are respectful of each campus and the communities they serve. The report encouraged Chancellors of each campus to work with their Hawaiian councils and/or appointed work committees to develop a plan aligned with Hawaiʻi Papa o Ke Ao.
The objective of the current working committee is to both establish system-wide initiatives and support campus-specific efforts.
There are powerful motivations for University of Hawaiʻi to be supportive of its indigenous population: some of its campuses sit on ceded lands; negative Native Hawaiian social and economic statistics exist; and inequity of success amongst its native and non-native students are factors that demand attention. While there are many reasons to be concerned about Native Hawaiian college success, the working committee believes the most important reason to address this issue is because it is pono—the right thing to do.
For full report: HPOKA 2012
Committee Members and Office
Maenette Benham
Chancellor
UH West O'ahu
Co-Chair
Lui Hokoana
Chancellor
UH Maui College
Co-Chair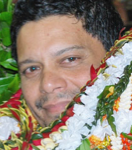 Taupouri Tangarō
Professor, Hawaiʻi Life Styles
Hawaiʻi Community College and Director, Hawaiian Culture and Protocols Engagement
Hawaiʻi Community College & UH Hilo
Alapaki Luke
Assistant Professor & Division Chair
Kūlana Hawaiʻi
Honolulu Community College Isaiah Kaʻauwai
Instructor & Counselor, Student Affairs
Kauaʻi Community College
Nawaʻa Napoleon
Dean of Arts & Sciences
Kapiʻolani Community College Momi Kamahele
Professor, Hawaiian Studies
Leeward Community College Kekoa Harman
Associate Professor, Hawaiian Studies & Hawaiian Language
Ka Haka ʻUla O Keʻelikolani College of Hawaiian Language
UH Hilo
Punihei Lipe
Program Officer, Native Hawaiian Affairs
Office of the Chancellor
UH Mānoa Sarah Gilman Sur
Associate Professor & Head Librarian
Windward Community College
Campus Efforts that Align with the
Hawaiʻi

Papa O Ke Ao Mission
Hawaiʻi

Community College and University of

Hawaiʻi

at Hilo Join in Commitment to Indigenize the Academic Experience
Kauhale,
Hawaiʻi

Community College
Hawaiʻi Community College embraces the concept of Kauhale that traditionally means the Hawaiian village. Kauhale is an ʻohana of administrators, faculty, staff, students, their families and the Hawaiʻi Island community that contributes measurably to the success of our college's mission and outcomes. Kauhale maximizes the "community" in our mission through dialogue, planning, innovation and assessment across traditional college divisions and units. Kauhale enables all members of the college ʻohana to recognize and celebrate our own individual skills, knowledge and experiences as well as the skills, knowledge and experiences of others. Kauhale unites all components of Hawaiʻi Community College into an "academic village without walls" for the overall success of our learners, the learners' communities and their families, in the spirit of E ʻImi Pono (seeking excellence).
Kīpaepae
Hawaiʻi

Protocols Committee,

Hawaiʻi

Community College and University of

Hawaiʻi

at Hilo
Under the offices of the chancellors
Function and Purpose
To meet the need for traditional

Hawaiʻi

protocols in our academic, local and global communities.
To act as the "face" of

Hawaiʻi

Community College and the State of

Hawaiʻi

through continued research, design, education and training as we extend our reach beyond our shores.
To respond to global invitations to bridge resources, talents and experiences.
Work collaboratively with the Kauhale to instill and sustain a Hawaiian sense of place at

Hawaiʻi

Community College.
Kīpaepae—

Hawaiʻi

Protocols Committee aligns with and supports the following:

UH Commitments and Core Values

Aloha
Collaboration and respect
Active learning and discovery
Hawaiian and Asian-Pacific advantage
Innovation and empowerment
Align with

Hawaiʻi

Papa O Ke Ao Systemwide Initiative
Sharing of resources between

Hawaiʻi

Community College and UH Strategic Goals

Educational Effectiveness and Student Success
A Model Local, Regional and Global University (Center for Indigenous Studies)
Investment in Faculty, Staff, Students and their Environment

Hawaiʻi

Community College

Policy UHCCP4.101 (May 2006)—Diversity

Hawaiʻi

Community College's Mission—Embracing unique

Hawaiʻi

Culture

Hawaiʻi

Community College's ILO—Respect diversity and Hawaiian Culture
Supports

Hawaiʻi

Community College's Kauhale
Supports

Hawaiʻi

Papa O Ke Ao Initiative

University of

Hawaiʻi

Hilo

Endorsement and support of the Chancellor at University of

Hawaiʻi

Hilo.
Hanakahi Council, University of
Hawaiʻi

at Hilo
Vision
The University of Hawaiʻi at Hilo is a Hawaiian place of learning.
Mission
Hanakahi Council advocates for and advises on the advancement of Hawaiian students, faculty, staff and culture throughout UH Hilo.
Who We Are
The Hanakahi Council is a campus-based caucus group of faculty and staff who are Native Hawaiian or associated with campus programs, colleges or departments in Hawaiian Studies, Hawaiian language or Hawaiian education or targeted to serve Native Hawaiian students.
The general membership meets monthly and the executive representatives meet monthly with the UH Hilo chancellor to discuss issues and/or topics that may impact access or success Native Hawaiians at UH Hilo.
The Hanakahi Council represents UH Hilo at the system-wide level as an active member of the Pūkoʻa Council.
Hanakahi Council strategic goals:
Lead the transformation of UH Hilo as a Hawaiian place of learning;
Advocate for the advancement and leadership of Hawaiian students, faculty and staff;
Strengthen Hanakahi's collaborative voice, advisement to administration and capacity through mentorship.
To advance Hanakahi strategic goals, the following committees were formed.
Protocols (with sub-committees on Naming, Commencement and

Hoʻokipa

)
Legislative tracking
Ka Palapala

Hoʻokumu

(Charter) – of the

Hoʻolulu

Council.
Ke ʻŌlelo

Nuʻukia

(Vision)—The vision of Hoʻolulu Council is a kauhale of learners and their families, faculty, staff, administrators and community members who embrace Hawaiian culture and values in learning, teaching and interpersonal relations.
Ke Ala

Nuʻukia

(Mission)—The vision of the

Hoʻolulu

Council is to honor, empower and advance Native Hawaiian people, culture and language through excellence in higher education.
Kuleana (Responsibility)—The kuleana or responsibility of the

Hoʻolulu

Council is to act as an advisory council to the chancellor of

Hawaiʻi

Community College regarding issues, programs and policies in relation to Native Hawaiians at

Hawaiʻi

Community College and with University of

Hawaiʻi

System. The Council also represents

Hawaiʻi

Community College on the

Pūkoʻa

Council, a Native Hawaiian advisory council to University of

Hawaiʻi

president.
Ka ʻĪkoi Leo:
Hawaiʻi

Language Culture Committee
On December 9, 2011, the College Council approved the formation of Ka ʻĪkoi Leo: Hawaiʻi Language Culture Committe. The purpose of this committee is to promote the use and understanding of ʻŌlelo Hawaiʻi within a traditional cultural contest and to serve as a resource for the Hawaiʻi Community College Kauhale.
Into the Center of Knowing is the official Hawaiʻi protocols program at Hawaiʻi Community College. Delivered by the I Ola Hāloa Center for Hawaiʻi Life Styles, Hawaiʻinuiākea is sensational and engaging, a pulsing invitation to enter into the informed practices of Hawaiʻi protocols as a way to keep us in balance with the natural, brilliant and very human world we live in today.
Hawaiʻinuiākea is where the "community" gathers. Here you'll develop real-life partnerships outside of the classrooms with fellow learners, faculty and staff members of the College and the University of Hawaiʻi at Hilo. It is here where our families and our local and global communities come together to reacquaint ourselves with what it means to be Hawaiʻi. Simply said, Haʻakūmalae is the practice of knowing our place in the universe.
Hawaiʻi

Pāmaomao Indigenous Exchange Program
Hawaiʻi Pāmaomao—Into the Horizons of Knowing is the protocols complement to Haʻakūmalae that prepares serious protocol members of our community to engage our Hawaiʻi protocols as a bridge for a rich and meaningful interface with our indigenous families from around the world. Our Kaʻao (Sacred Stories) tell us that, as indigenous members of Moananuiākea (Expansively Broad Ocean), we are all profoundly connected. Hawaiʻi Pāmaomao allows for us to prepare and step into the experience of knowing how we connect, and more importantly, how we can enter this experience into the quality of life we live today.
Paepae ʻŌhua
Paepae ʻŌhua Native Hawaiian Student Success Center promotes a holistic Hawaiian cultural foundation experience which empowers all learners to maximize their potential by supporting personal development, cultural identity and academic success.
Unukupukupu
Unukupukupu is the Hālau Hula of Hawaiʻi Community College and the University of Hawaiʻi at Hilo that delivers the two-year associate degree in Hawaiian Studies – Focus on Hula degree. In a vibrant hālau setting, the culture of hula serves as door into defining and exercising 21st century indigenous leadership for personal and community wellbeing. Unukupukupu also delivers non-credit bearing lifelong learning experiences in cohort fashion. Unukupukupu is the primary body that facilitates kīpaepae.
Kukuʻena

—Cohort of Employees of both

Hawaiʻi

Community College and UH Hilo trained to facilitate and support kīpaepae
Unuolehua I—Cohort of Former Hula degree graduates trained to facilitate hula as a platform for indigenous leadership
Unuolehua II—Chancellor's Emerging Leaders through Hula and Protocols Engagement, trained to develop indigenous leadership via kīpaepae facilitation
Unuolehua III—Chancellor's Emerging Leaders Program for Early College Students, trained to develop indigenous leadership via kīpaepae facilitation
Uluākea
Uluākea is a University of Hawaiʻi at Hilo Project to Indigenize the academic process and culture, with aims to train faculty to teach, research and conduct services out of a Hawaiian world view using an Indigenous place-based educational approach.
Director of Hawaiian Culture and Protocols Engagement
The Director of Hawaiian Culture and Protocols Engagement reports directly to the chancellors of University of Hawaiʻi at Hilo and Hawaiʻi Community College. The director serves as protocols advisor to the chancellors to advocate for indigenous success in the context of the university and college community through collegial leadership, vision, creativity, innovation and ongoing assessment.
The Director creates and facilitates protocol, cultural training and service on behalf of UH Hilo, MELE, Hawaiʻi Community College and UH Foundation upon measurable goals as defined by Hawaiʻi Papa O Ke Ao, Creating and Indigenous Serving Institution of Higher Education.
Finally, the Director of Hawaiian Engagement works co-jointly with the Director of Native Hawaiian Engagement, Chief advocate for Hawaiian issues within the university and college community.
Duties and Responsibilities: Develops, implements and assesses long‐ and short‐range plans and programs for Hawaiian culture and protocols engagement at the University of Hawaiʻi at Hilo and Hawaiʻi Community College, inclusive of Hawaiʻi-island communities, the State of Hawaiʻi and cultural-educational partners that advocate the goals of Hawaiʻi Papa O Ke Ao.
Makalapua Naʻauao
Makalapua Naʻauao is a new, innovative financial aid pilot program co-funded by the University of Hawaiʻi and Kamehameha Schools, part of the Hui Hoʻopili ʻĀina Partnership. The program will accept a cohort of up to 50 Native Hawaiian students at the University of Hawaiʻi at Mānoa and the University of Hawaiʻi at Hilo who are 2016 Kamehameha School graduates and offer them a scholarship of up to $10,000 per year for up to four years, as long as students meet program requirements and follow guidelines as outlined in program documents and expectations.
Living Learning Communities particularly the Nohona
Hawaiʻi

LLC
A Living Learning Community is where first year students with a shared interest live together in one of our residence halls. They take a shared class together and have an amazing outside-of-the-classroom experience focused around that particular theme or interest. Each community has a faculty mentor, who will instruct one of their courses each semester as well as engage with students outside of the class. These communities are all designed to support the academic success of our students and help students make friends and ultimately graduate and become a successful member of the global community. The Living Learning Community program is an outstanding way in which University of Hawaiʻi at Hilo is supporting the success of our newest students.
The Kanilehua Living and Learning Community (LLC) is a residential program focused on the engagement and retention of Native Hawaiian students through academic support, residence hall programming, and culturally based activities. An ideal experience for first-year students at UH Hilo, Kanilehua LLCs are able to integrate coursework with target faculty members, encourage peer interactions, provide additional access to resources for student success, and promote opportunities for community engagement. This program integrates university coursework through a UNIV 101 course intended to familiarize students with the co-curricular and curricular aspects of university life while connecting them with faculty in their specific areas of interest. Within the residence halls, spaces for students to socialize, cook, eat, and study together amongst peers are provided and available around the clock. The Wailau Technology Room available for all students is equipped with computers and other resources to help students complete assignments after regular campus hours. The lab is staffed with peer mentors who are experienced students at UH Hilo available for assistance in tutoring, advising tips, mentorship and anything related to student life and well-being at UH Hilo.
Benefits of LLC:
Regular faculty interaction
Specialized community service opportunities
Resources available beyond regular campus hours
24-hour access to kitchen facilities
Study rooms equipped with whiteboards throughout the hall.
Kanilehua Scholar-in-residence program, priority application
Kupa ʻĀina Summer Bridge
The Kupa ʻĀina Transfer Bridge Program is a six-week, credit-bearing residential program funded by and in, partnership with the University of Hawaiʻi at Hilo Office of the Chancellor, Kīpuka Native Hawaiian Student Center and Kamehameha Schools to increase the representation of Native Hawaiians in STEM (Science, Technology, Engineering and Mathematics) fields. Participants will enroll in selected STEM courses and participate in problem and ʻāina-based applied research activities at various learning sites around the island. In addition, participants will have access to advising, counseling and tutoring and facilitate activities to develop their leadership and mentoring skills.