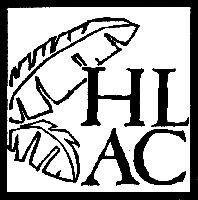 THE HAWAI'I LITERARY ARTS COUNCIL
HLAC Officers

President: Ann Katherine Reimers, 946-7300 (w); reimersa001@hawaii.rr.com; Executive Director of Hawai'i Services on Deafness; editor.

Vice President: Mike Leidemann, 525-5460 (w) and 263-5627 (h); mleidemann@gmail.com; feature writer and columnist for The Honolulu Advertiser who enjoys writing about cultural events and reading modernist novels.

Treasurer: John Simonds, 373-3609 (h) and 383-7984 (cell); simondsj001@hawaii.rr.com; poet.

Secretary:

HLAC Board Members

Paul Nelson, 637-9290 (h); sightpacific@earthlink.net; poet.

Esha Neogy, 528-2080 (h); Esha@prodigy.net; writer and free-lance editor; mediator; director of Children's Literature Hawai'i's Ninth through Twelfth Biennial Conferences on Children's Literature; past chairperson of the UH-Manoa Board of Publications.

Mary Kaye Ritz, 261-6365 (h) and 525-8035 (w); Marykayritz@cs.com; editor at The Honolulu Advertiser and free-lance writer.

Eric Paul Shaffer, 845-9241 (w) and 738-0170 (h); eshaffer@hcc.hawaii.edu; Instructor of English, Honolulu Community College; poet and fiction writer.

Kenith Simmons, 974-7478 (w) and 961-4670 (h) on Big Island;

simmons@hawaii.edu; Professor of English and Chair of the Humanities

Division, University of Hawaii at Hilo; poet.