~Make A Gift~
The June Chun Naughton International Student Services Endowed Scholarship
For more than 30 years, June Chun Naughton worked with assisting international students at the University of Hawaii Manoa to adjust to campus and community life. Some of her more notable accomplishments as Director of International Student Services since 1986 include beginning the first leadership organization for international students called PALS - Peer Advocate Leadership Society, and starting the first organization for dependents of international students. Her strong sense of loyalty and commitment to international students through this endowment continues her legacy. The June Chun Naughton International Student Services Endowed Scholarship was established to honor June C. Naughton on the occasion of her retirement in December 1998 as the Director of International Student Services.
The purpose of this fund is to assist international students (foreign nationals) attending the University of Hawaii at Manoa and/or U.S. citizen/U.S. permanent resident students who promote and participate in intercultural programs and activities at the University of Hawaii at Manoa as they pursue their educational objective. All funds should be used for costs associated with attendance (tuition, fees, books, etc.) and may include support to a foreign student who experiences emergency and/or unforeseen circumstances that may threaten their ability to continue enrollment.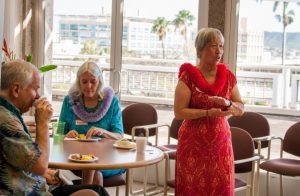 Mahalo for your consideration!