Your feedback is important to us. Please take the time to complete this short survey. (survey is now closed)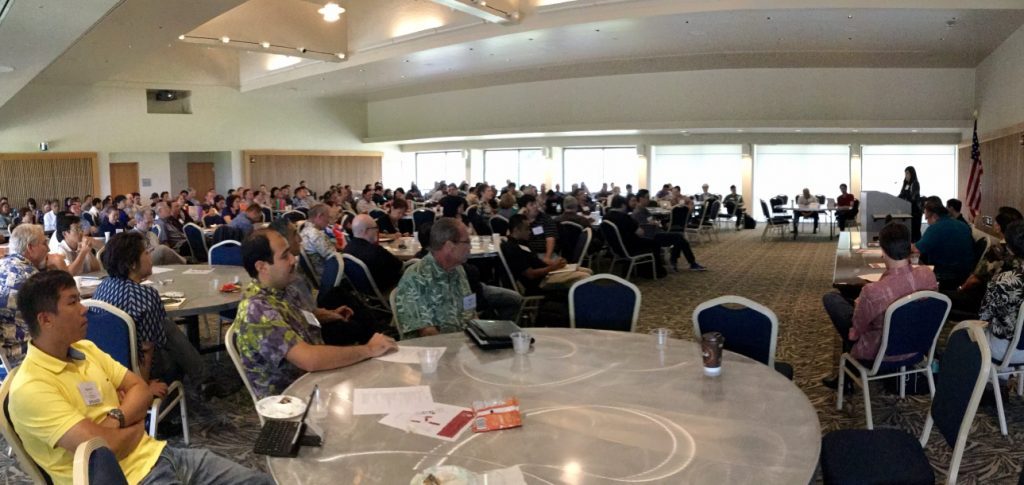 The PowerPoint presentations have been made available.
Kick-Off & ITS Updates – Garret Yoshimi, VP for Information Technology & CIO
Keynote Speaker – Chris Lee, Founder & System Director, Academy for Creative Media
Lightning Rounds I
Cloud in Higher Education – Bill Wrobleski, UH System (ITS, TI)
Hawaiʻi Industry Sectors – Paul Sakamoto, UH System (Ofc of VP CC)
Network Updates – Chris Zane, UH System (ITS, TI)
Usage of Openstack Cloud Computing Architecture in the COE – Seowon Jung, UHM (COE)
STAR Pilot Update & Next Steps – Gary Rodwell, UHM (Acad Dev & Tech)
Supporting the UH Research Mission with HPC and Data Services – Ron Merrill, UH System (ITS, CI)
Cyberinfrastructure meets Big Science: ʻIke Wai Project – Gwen Jacobs, UH System (ITS, CI)
State of LMS – Kenwrick Chan, UH System (ITS, AT)
Enterprise Reporting – TBD
MyUH2 Services – Jeela Ongley & Chase Kawakami, UH System (Media Production & ITS, AT) Complete a short survey.
Lightning Rounds II 
Security Threat Landscape – Jodi Ito, UH System (ITS, CIO)
Cybersecurity Education – Dave Stevens, Kap CC (Bus Legal & Tech Ed)
ITS Projects – Lane Fukuda, UH System (ITS, CIO)
Kuali Student Curriculum Management – Mitchell Okuma, Hawaiʻi CC (Acad Support)
Development of Web-Based Key Manager for Encrypted Equipment Resources – James Park, UHM (COE)
ADA Compliance for the Web – Vernon Yoshida, UH System (ITS, TI)
IT Incident Management – Sid Savara, UH System (ITS, MIS) 
24/7 ITS Support – Mitch Ochi, UH System (ITS, AT)
UH Groupings  (VIDEO) – Julio Polo, UH System (ITS, TI)
Breakout Session I 
IAM Updates for Developers & IT Managers – Michael Hodges & Julio Polo, UH System, ITS, TI
Network Updates – Chris Zane, UH System, ITS, TI
Security Threat Landscape – Jodi Ito (Presentation slides coming soon)
Breakout Session II
Cloud in Higher Education – Bill Wrobleski, UH System, ITS, TI
Cybersecurity Education – Dave Stevens, Colleen LaClair, Jodi Ito  (Presentation slides coming soon)
Formal Tour of ʻUluʻulu – with Chris Lee. Photos of the tour