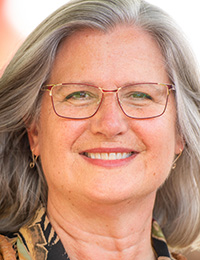 (808) 932-7348
bdirwin@hawaii.edu
200 West Kawili Street
Administration Building 119
Hilo, HI 96720-4091
Bonnie D. Irwin began serving as chancellor at the University of Hawaiʻi at Hilo on July 1, 2019. Chancellor Irwin previously served as provost and vice president for academic affairs at California State University (CSU) Monterey Bay.
While at CSU, Irwin served on the Regional Engagement and Research Council of the American Association of State Colleges and Universities and the Board of Directors of the American Conference of Academic Deans. She is currently a National Collegiate Honors Council Fellow.
Previously, Irwin served as dean of the Honors College, and then dean of the College of Arts and Humanities, at Eastern Illinois University. While there, she also served on the board of the National Collegiate Honors Council, also serving as president of the organization. She started at Eastern Illinois University as a tenure-track professor of English specializing in world literature and folklore before moving into administration.
Irwin earned her master of arts in comparative literature and her doctor of philosophy in comparative literature from UC Berkeley.