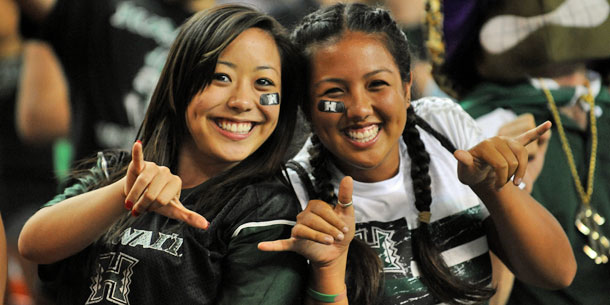 Help celebrate Homecoming 2011 October 17–23 on the University of Hawaiʻi at M&#257noa campus! Come and enjoy the more than a dozen events scheduled for alumni, students, faculty, staff and the public.
Kicking things off will be the Homecoming Fair at the Clarence T.C. Ching Field, Friday, October 21, 3:30–6:30 p.m. It features live entertainment, food, games, prize giveaways and more! Free and open to all.
In addition to homecoming volleyball and football matches, the celebration encompasses alumni gatherings and public events hosted by several UH academic programs, public open houses, exhibitions, lectures, a golf tournament and more.
The week of activities concludes with football Saturday, October 22, as the UH Warriors take on the New Mexico State Aggies at Aloha Stadium. Plan to attend to cheer for our home team!
Schedule of Events