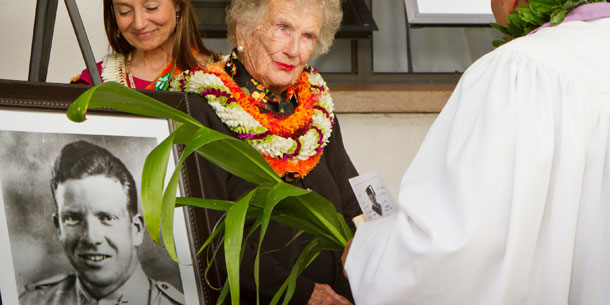 The University of Hawaiʻi at Mānoa's historic residence hall named for alumnus and World War II hero Jack Johnson was re-dedicated in a ceremony attended by fellow members of the 100th Infantry Battalion.
Built in 1958, Johnson Hall recently underwent a $6.7 million reconstruction project that included a redesign of student rooms, bathrooms and public areas as well as the exterior and basement.
John Alexander "Jack" Johnson Jr. (1914–1944) was an active student leader during his collegiate days at Mānoa. He graduated in 1935 with degrees in business and economics.
Called to active duty with the National Guard in 1940, he was one of the few non-Nisei members of the famous 100th Battalion. He was killed in action during the Battle of Cassino, a pivotal and costly series of battles waged by Allied forces with the goal of breaking through German lines and seizing Rome.
Special guests at the rededication included Johnson's widow Elizabeth Toulon and veterans of the 100th Infantry Battalion. The veterans had just returned from Washington, D.C., where they received Congressional Gold Medals.
With the reopening of the 196-bed Johnson Hall, the majority of the nearly 4,000 Mānoa campus housing units are either new or newly renovated.
UH Mānoa is housing a record-high number of students on campus this academic year.
Learn more about student housing at Mānoa.
Find information on Veterans Affairs services at UH Mānoa.