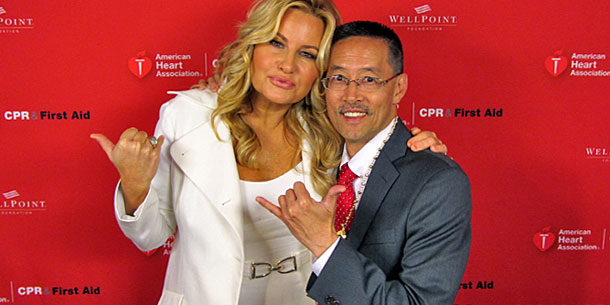 National CPR Awareness Week kicked off on June 5 in New York City with a Hawaiʻi medical school teaching innovation packaged up and presented with Hollywood flair. Alson Inaba, a University of Hawaiʻi at Mānoa's John A. Burns School of Medicine professor and physician, was part of an elaborate media event in New York City that featured dancers in all-white disco-era suits, like the one John Travolta wore in Saturday Night Fever, and mass demonstrations of the disco-derived CPR teaching technique that Inaba created in a JABSOM classroom seven years ago.
The American Heart Association National CPR Week Kick-Off recognized Inaba for creating the Stayin' Alive or hands-only method, which has become a life-saving phenomenon. AHA has adopted the Bee Gees' hit and Inaba's technique in international video public service announcements and uses the Travolta-suit logo as a key element of its CPR public education campaign.
"I still cannot fully comprehend how my one little idea of using the beats in the tune Stayin' Alive to teach the correct rates for chest compression has exploded worldwide," said Inaba.
During the kick-off event, Inaba met a man who was saved by his teaching method. Tom Maimone suffered cardiac arrest in April 2009. He was revived by Tom Elowsen, who had never taken a CPR lesson but had seen a news segment about the Stayin' Alive technique a few months earlier.
"I'm glad that lives are being saved and that this easy-to-remember technique of performing CPR is giving more and more people the confidence to perform CPR on victims of sudden cardiac arrest," said Inaba.
How the Stayin' Alive method was born
Inaba came up with the concept of using Stayin' Alive to liven up a learning session at JABSOM in 2005.
"I don't like boring presentations, so I created a skit in which one student walked up onto the stage and suddenly collapsed. Then a group of MD medical trainees, sporting dark glasses, gold chains and a boom box blaring Stayin' Alive rushed up to the stage to perform CPR," said Inaba.
"My teaching point was 'let's do everything we can to help this guy stay alive.' That got me to thinking about the beat of Stayin' Alive, which has about 100 beats per minute— the same rate the AHA recommends for CPR chest compressions."
JABSOM medical students practiced on robot patients, and before long, "they were humming and strutting releasing their inner John Travolta," Inaba said.
Adated from John A. Burns School of Medicine news release.