Campus life on the University of Hawaiʻi at Mānoa received a serious upgrade in 2014 with the opening of the Warrior Recreation Center.
"A student driven, student funded project so the students have a place on upper campus they can play basketball, workout, do cardio, have classes, things like that," said Matthew Nagata, a UH Mānoa student and member of the Campus Board, which is in charge of the Campus Center complex.
"I think it is in the perfect spot on campus," said student Malia Del Castillo. "Right at the heart of the school, beautiful scenery everywhere and it's right next to Campus Center, which is like the hot spot for all the students to go to."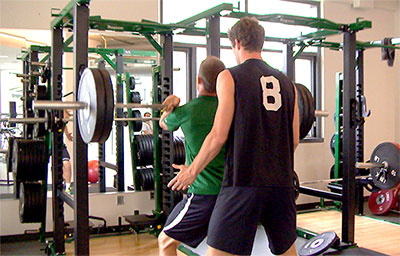 The student run, multiple million dollar, two-story, state-of-the-art facility features a wide array of cardiovascular and weight training equipment, indoor jogging track, free workout classes and trainers, locker rooms, showers and multipurpose courts for basketball and volleyball.
"There's everything you know," said student Jonathon Rawson during his workout. "We have the track, too. I got to warm up on today, play volleyball, play basketball, every kind of equipment you want, it's all right here."
"There is a lot of variety," said student Kiana Krzyska. "I did not expect this rock wall to be here. It's pretty cool."
"It's pretty, it's big and they have a lot of great activities for all students," agreed fellow student Stacey Nguyen.
"It's awesome," exclaimed student Nathan Castro during his first visit. "It's pretty beautiful if you think about it. I am glad it's here."
Every fee-paying student with a current UH Mānoa ID can walk in and utilize the high tech equipment like the latest in treadmill technology outfitted with USB ports, iPhone docks and cable TV and exercise machines that adjust to the user's body frame. There are also four Olympic weightlifting platforms, more than 100 pieces of cardio equipment and much more in the 66,000 square foot facility.
"A lot of times, when it gets crowded, it doesn't seem crowded, because there is so much space," remarked Castro.
"It's big," agreed fellow student Kimberly Kaneshiro. "There are lots of machines, lots of free classes. You don't have to wait."
"You know, it's big enough, that even though it's crowded, there is enough machines and weights to get a good workout in," said Rawson.
"Having the rec center right here, it just creates an overall better ambience on campus and more positive, upbeat energy," said Del Castillo.
The Warrior Recreation Center is the newest addition the Campus Center complex, already the gathering place on campus since it is home to the campus bookstore, dining hall and many student services and facilities. Both centers face a large courtyard with lots of benches and places to relax, all shaded by a massive monkeypod tree.
"It's just a great place for people to hang out and meet up, eat, get Starbucks or Jamba Juice, relax or come during their breaks," said Nguyen.
"Now it is open, it's more— more space to study, you can take a nap, or whatever you want to do around here. It's good for campus life, for sure," said Rawson.
"It's kind of like promoting a healthier campus too, for the students to come here, not only to fulfill their eating, food needs, social needs, but also their health needs and physical needs, too, as well," said Del Castillo.