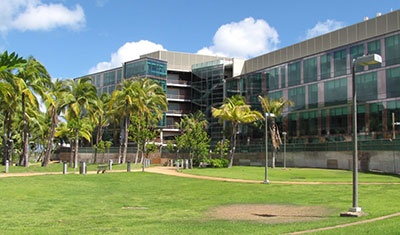 The National Cancer Institute (NCI) has awarded the University of Hawaiʻi Cancer Center and The Queen's Medical Center a grant of more than $3.8 million over five years to conduct cancer clinical trials in the state for minority and underserved populations. Queen's was chosen to lead and perform the cancer care delivery research component of the grant.
The NCI Community Oncology Research Program (NCORP) grant is part of a national effort to increase access to NCI research for minority, rural and underserved patient populations.
It will continue providing both adults and children living in Hawaiʻi with access to NCI clinical trials, which have been funded by a Minority-Based Community Clinical Oncology Program grant to the UH Cancer Center since 1994.
"This grant allows us to look at recent advances in cancer research and bring the new knowledge into clinical trials conducted in the community, where most patients receive their care," said UH Cancer Center faculty member Jeff Berenberg, an oncologist at Tripler Army Medical Center and the co-principal investigator on the grant. "It also allows us to identify those things that reduce cancer risk, enhance patient quality of life, and increase access to clinical trials for minority and other underserved populations."
Read the UH Cancer Center news release for more information.