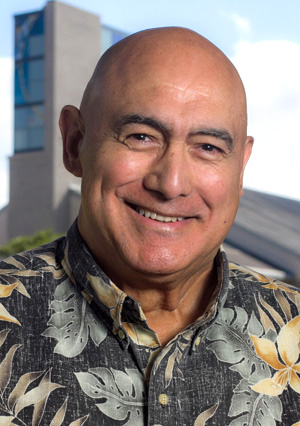 University of Hawaiʻi at West Oʻahu Chancellor Rockne Freitas was selected to the Polynesian Football Hall of Fame, marking another honor in a long list of awards for the former National Football League (NFL) Pro Bowler.
"The Polynesian Football Hall of Fame does great work to acknowledge the efforts of football players of Polynesian descent, and I am grateful for my selection," Freitas said. "My fellow inductees, including two others from Hawaiʻi, served as pioneers for Polynesians in the NFL and I am honored to be inducted with those esteemed individuals."
Freitas joins Charlie Ane, Al Lolotai, Troy Polamalu and Vai Sikahema in the third class of enshrinees, which were selected from a list of 25 finalists.
Freitas played offensive line and was selected all-Pro twice for the Detroit Lions from 1968 through 1977. In 1972, he was selected as the team's offensive MVP—the first lineman to earn the honor. He also played one year at Tampa Bay in 1978. His professional career followed an illustrious college career at Oregon State, where he was selected to play in the Hula Bowl, Coaches All-America Bowl and the College All-Star Game.
The inductees were chosen by a selection committee composed of past head football coaches Dick Tomey (chairman), LaVell Edwards, Ron McBride and Dick Vermeil, ESPN SportsCenter anchor Neil Everett, NFL player personnel expert Gil Brandt, past NFLPA president and Inaugural Inductee Kevin Mawae and Hawaiʻi sportscaster Robert Kekaula.
The Class of 2016 will be honored during the Polynesian Football Hall of Fame Enshrinement Weekend on January 29 and 30, 2016 in Oʻahu.