In honor of Martin Luther King, Jr., University of Hawaiʻi at Mānoa librarian Kapena Shim and University Archives technician Sherman Seki dove into the collection at UH Mānoa Library to find Ka Leo O Hawaiʻi newspaper coverage and photos of King's visit to Mānoa in 1964. Shim shares a recap, below. These historic articles and photographs are available to explore at UH Mānoa Library in the Hawaiian Collection and University Archives & Manuscripts. Additionally, UH Regent and former Hawaiʻi Supreme Court Justice Simeon R. Acoba, Jr., who was chair of the Civil Rights Week committee instrumental in making the week's events happen, shared his remembrances for this story.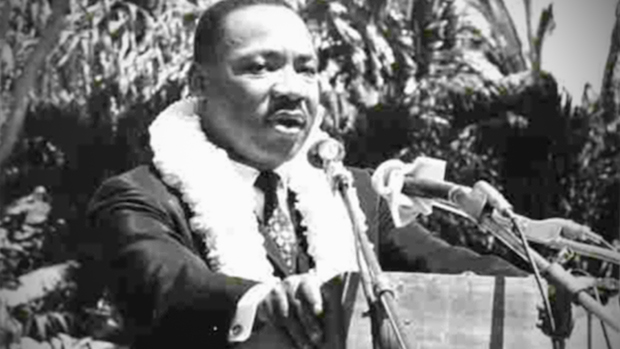 At noon on February 19, 1964, Martin Luther King, Jr. delivered a speech to UH Mānoa students, faculty, staff and community members on the subject of "Progress Toward Desegregation" at Andrews Outdoor Theatre. About 10,000 listeners jammed the seats in the outdoor amphitheater, filling the grass in the center and spilling over onto the lawn outside the wall to hear King describe how his people are using, "moral means to achieve moral ends."
King's lecture was part of Civil Rights Week, which was declared by UH President Hamilton to be February 17-21. During this week leaders from several national civil rights groups delivered a series of speeches on campus to talk about their solutions to the problems of racial inequality now facing the United States, igniting concern in the community towards effective programs that could help eradicate the "remnants of racial inequality," and asking Hawaiʻi to become the leader in the drive to extend civil rights and equality on all levels to every man.
In addition to King, a central figure in the Southern integration movement and leader in the Southern Christian Leadership Conference, speakers included John Ali, national secretary of the Black Muslims; James Farmer, national director for the Congress of Racial Equality (CORE); and W. J. Simmons, editor of The Citizen, official Journal of the Citizens Council of America.
After the event, Ka Leo O Hawaiʻi reported, "there was a spirit of dignity, hope and confidence in the words of King and Farmer as they talked about non-violent, direct action that will force issues to a head."
Closing optimistically, King had said, "I believe that deep down within our nation, in spite of difficulties, there is a desire to move toward integration."
He ended with a message of hope, hope that he and other civil rights workers hasten the day when the brotherhood of men is a reality.
King's visit engages the local community
Serving as chair of the Civil Rights Committee was a young political science major named Simeon R. Acoba, Jr., a future Hawaiʻi Supreme Court justice. Acoba described the ripple effect of King's visit, as numerous community groups hosted the honored guest for special events and engagements.
"The state community seemed energized by the events on campus. We were gratified that the speakers' impact expanded beyond campus, as many public officials, the editors of the two major newspapers, labor unions, the Honolulu Chamber of Commerce, churches and many others were engaged," recalled Acoba.
Many of these business and community leaders met at the East-West Center on Feb. 20, 1965 to discuss civil rights and what they called, in their Civil Rights Statement, "Hawaiʻi's obligation to bear witness" during "one of the most critical periods of American history."
Among the proposals issued by conference goers was: "That we the assembled here endorse the civil rights bill which passed the U.S. House of Representatives recently, and that we call upon the U.S. Senate also to pass the bill in the same form; and that we assembled here urge the individuals and organizations throughout Hawaii to communicate with as many mainland friends as possible to enlist their active support of the passage of this bill."
Months later, the Civil Rights Act of 1964 was signed into law by President Lyndon B. Johnson.