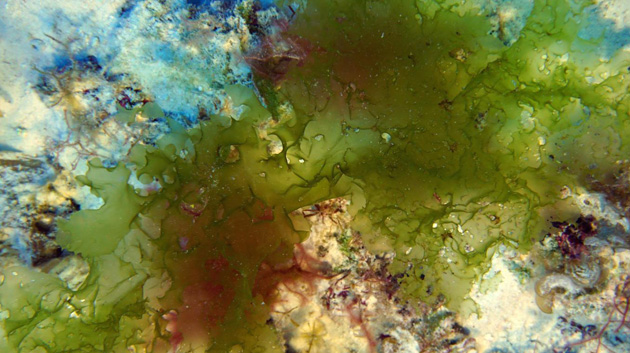 Researchers from the University of Hawaiʻi botany department and Friday Harbor Laboratories have discovered and described four new algal species from Hawaiʻi's mesophotic coral ecosystems. The new species (Ulva ohiohilulu, Ulva iliohaha, Umbraulva kuaweuweu, and Umbraulva kaloakulau) are part of a group commonly known as sea lettuces. Sea lettuces are not well described in mesophotic environments (100–500 feet deep), but are known from shallow waters worldwide.
This discovery was featured in the latest issue of the Journal of Phycology. Authors included University of Hawaiʻi's Heather Spalding, Celia Smith, Alison Sherwood and Kimberly Conklin and their colleague from Friday Harbor Laboratories Charley O'Kelly.
Honoring the importance of limu
Marine algae, or limu, plays a prominent role in Hawaiian culture as foods, for ceremonial use and as adornments in traditional hula. Members of the Native Hawaiian community were consulted and involved in developing meaningful names for the new species to honor the importance of limu in Hawaiian culture. For example, one species was named Ulva ohiohilulu, which translates to "flourishing in the leeward calm," which references the calm waters and widespread mesophotic reefs of the ʻAuʻau Channel between the islands of Maui and Lānaʻi.
Another species was named Ulva iliohaha, which refers to the foraging behavior of ʻīlioholoikauaua, the endangered Hawaiian monk seal, one of the best-known residents of Papahānaumokuākea Marine National Monument in the Northwestern Hawaiian Islands.
A window into the unknown
The algae were collected at depths of 210–410 feet from 13 different sites between Midway Atoll and Maui. Says lead author, Spalding "I was astounded at the abundance and size of these algae, which resembled something you would see in a shallow-water lagoon, not at 400 feet."
These sea lettuces appear to be distinct from shallow-water populations in Hawaiʻi, but whether they are similar to mesophotic algae in other parts of the Pacific Ocean is unknown. The discovery of these new and abundant species at these depths suggests that the mesophotic environment in Hawaiʻi may have many other new species.
The research was funded by NOAA's Papahānaumokuākea Marine National Monument, NCCOS's Deep Coral Reef Ecosystem Studies project, Office of Ocean Exploration and Research, Coral Reef Conservation Program and Hawaiʻi Undersea Research Laboratory.