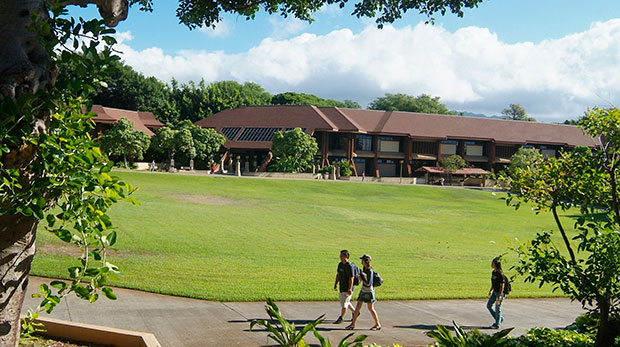 University of Hawaiʻi Vice President for Community Colleges John Morton announced today that Kapiʻolani Community College Chancellor Leon Richards is stepping down as chancellor following the May 15, 2016 college commencement. Morton will recommend the appointment of Louise Pagotto, vice-chancellor of academic affairs, to the Board of Regents as interim chancellor of UH's second largest campus.
Richards will retire on December 1, 2016 from UH and in the interim before his retirement, Morton has tasked Richards with developing a transition plan for the international education programs for the entire UH Community Colleges system.
"Chancellor Richards' greatest contribution has been his ability to create a model international education program at Kapiʻolani that both attracts hundreds of international students to come to Hawaiʻi and creates opportunities for Hawaiʻi community college students to study abroad," said Morton.
At 10 percent, Kapiʻolani has the highest percentage of foreign students of the UH ten campuses, 776 out of 7,815 students in fall 2015. UH Hilo has the second highest percentage at seven percent.
"I value Leon Richards as a partner and a friend for the many years we have worked together and will be focusing the months prior to his retirement on working with him to ensure that the international education legacy he has built will continue to grow and thrive," said Morton, adding that Richards has been a leader in helping to create the robust system of community colleges in Hawaiʻi that exists today.
Richards has over 40 years of service at UH. In an email sent this afternoon to the campus community, Richards expressed his appreciation.
"I believe Kapiʻolani has competent and caring administrators, faculty, staff and students, I want to sincerely thank each and every one of you for all that you do to make Kapiʻolani and its heritage great," said Richards. "We as a campus and as a family need to continue to move forward with renewed energy and focus."
Richards message also included a list of notable accomplishments at Kapiʻolani including increasing enrollment, graduation rates, scholarship and grant money and the transfer rate to four-year colleges to name a few.
Kapiʻolani is UH's largest community college and home to the Culinary Institute of the Pacific. The college is known for promoting an international focus and providing high quality programs in business, hospitality, health, legal education and arts and sciences.