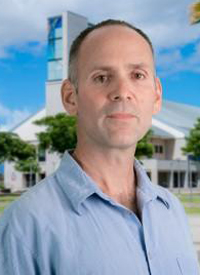 University of Hawaiʻi–West Oʻahu Assistant Professor of Sustainable Community Food Systems Albie Miles and colleagues published the article "Host Plant Associations of Anagrus spp. (Hymenoptera: Mymaridae) and Erythroneura elegantula (Hemiptera: Cicadellidae) in Northern California" in Oxford University Press' Environmental Entomology.
With a team of researchers, Miles conducted a study identifying the noncrop host plants utilized by the Anagrus paratisoid (organism that spends much of its life attached to or within a single host organism similar to a parasite) during the overwintering period and throughout the entire year including leafhopper species associated with these host plants. Anagrus erythroneurae and Anagrus daanei are the key parasitoids of the western grape leafhopper (Erythroneura elegantula) in northern California vineyards. The study confirms previously known Anagrus host plants as well as identifies new host plant species.
More about Albie Miles
Miles' natural science research explores the synergies between farming system biodiversity and the provisioning of globally important ecosystem services from agriculture. His social science research explores the socio-economic and political obstacles to a more ecologically sustainable and socially equitable food system. Miles teaches a wide range of courses on the topics of agroecology and sustainable food systems, and developed the undergraduate concentration in sustainable community food systems at UH West Oʻahu. He has an extensive background in curriculum development and post-secondary education emphasizing experiential and hands-on learning, and held posts at the Organic Agriculture Program at the United Nations Food and Agriculture Organization and the Center for Agroecology and Sustainable Food Systems at the University of California, Santa Cruz.
—By Julie Funasaki Yuen