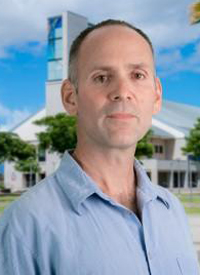 University of Hawaiʻi–West Oʻahu Assistant Professor of Sustainable Community Food Systems Albie Miles and colleagues were honored with the Elsevier Atlas award for their article "Investing in the transition to sustainable agriculture" published in the Journal of Environmental Science and Policy.
In his research for the article, Miles found:
Much United States Department of Agriculture (USDA) research and extension funding is unrelated to sustainable agriculture.
Many projects are focused on enhancing yields of crops or animal products.
Fewer funds support substituting less damaging inputs into farming practices.
Ecological agriculture is crucial but lacked funding.
More public funds are needed for agroecology and related socioeconomic supports.
Elsevier, publisher of more than 1,800 journals about information solutions for science, health, and technology professionals, awards the Elsevier Atlas to one article every month featuring research that may significantly impact the lives of people around the world. The Elsevier Atlas award is presented by the publisher in order to bring wider attention to the awardee's research and help ensure its successful implementation.
More on Albie Miles
Miles' natural science research explores the synergies between farming system biodiversity and the provisioning of globally important ecosystem services from agriculture. His social science research explores the socio-economic and political obstacles to a more ecologically sustainable and socially equitable food system. Miles teaches a wide range of courses on the topics of agroecology and sustainable food systems, and developed the undergraduate concentration in sustainable community food systems at UH West Oʻahu.
Read more on Miles' research and award at the UH West Oʻahu website.
UH West
Oʻahu

's sustainable community food system program

New sustainable community food systems degree program is training leaders for the green collar economy. Learn more.

—By Julie Funasaki Yuen