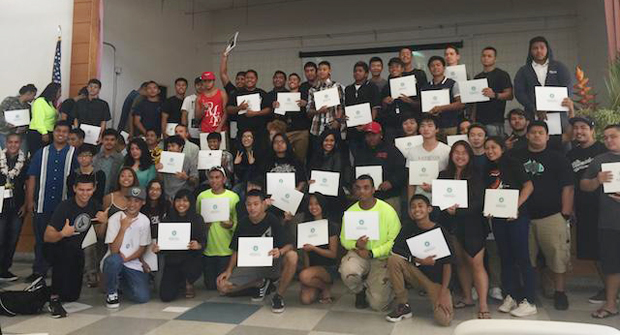 The construction industry is on the rise in Hawaiʻi, and Honolulu Community College is providing career exploration to 66 high school students representing 20 public, private and charter schools, including the Hawaiʻi Youth Challenge Academy.
In July the students were recognized amongst their family and friends for successfully completing the Summer Construction Academy, a six-week program that gave them introductory knowledge of carpentry, sheetmetal, welding and autobody.
"The goal of the Summer Construction Academy program is to give our students the chance to experience the college campus environment and courses offered," explained program coordinator Calvin Matutino. "Students got to experience hands-on activities that will give them insight into careers and educational pathways in the various disciplines of the construction industry, thus giving them the opportunity to make informed choices, so that they can steer their own futures."
Eleven of the 66 students returned as advanced participants, applying what they previously learned to multiple projects, such as constructing three metal-framed walls, and building child-sized picnic tables that will be donated to preschools within the community.
Half of the 66 students are 2016 high school graduates, and 21 of them plan to attend Honolulu Community College in the fall.
The Construction Academy Summer Program started with 12 students in 2008 and has grown over its eight-year existence. The summer experience is an extension of the Construction Academy, which is in approximately 16 high schools across the state during the academic year, filling the gap of industrial education in the public schools. The program was established through a grant funded by the U.S. Department of Labor and continues to operate solely on legislative funding.
"We instill the traits individuals need to find work—employability skills, like how to maintain your job, arrive to work on time, giving a courtesy call when absent to work or when late, volunteering for overtime when approached by your employer, being accountable and responsible. We want the students to never give up," said Matutino. "There will be obstacles, but if they push forward they will be able to accomplish any goal."
—By Billie Lueder