Help the University of Hawaiʻi touch lives, restore hope and weave a safety net of compassion beneath our community. The university's 2016 Oʻahu Aloha United Way (AUW) campaign runs from September 12 through October 7, 2016 and is part of the AUW's statewide Join the Movement campaign.
For 97 years, AUW has served as a fundraiser for Oʻahu's non-profit organizations. Donations help critical community service organizations assist more than 500,000 individuals in Hawaiʻi, in areas from education to poverty prevention, in order to build healthier, stronger communities.
The University of Hawaiʻi has been a strong partner to AUW for many years, and we hope to continue this tradition of being part of the movement with a 2016 goal of $316,400.
In the past three years, faculty and staff of the University of Hawaiʻi's Oʻahu campuses have donated more than $950,000 to AUW.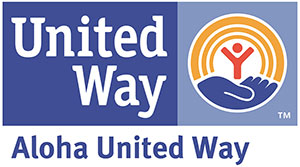 Make a difference
To show your support, please visit the Aloha United Way website.
Additional resources
For more information, please contact Mel Colquitt at (808) 543-2243 or email.