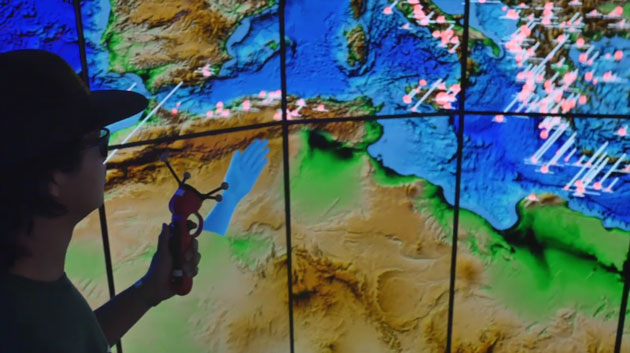 You can now go under the sea, explore outer space and probe microscopic elements of the human body without leaving campus. The 3D, immersive possibilities are endless now that the University of Hawaiʻi at Mānoa is home to the best hybrid visualization system in the world that combines immersive virtual reality with ultra-high-resolution display walls.
It's called the Destiny-class CyberCANOE, which stands for cyber-enabled Collaboration Analysis Navigation and Observation Environment. Computer and Information Science Professor Jason Leigh is the system's creator. He says he built what was the best system in the world in 2012 and was motivated to build something better when he moved to Hawaiʻi.
"UH has a lot of amazing scientists which have a lot of data available," Leigh said. "Because we have so much resolution on Destiny and we have so much computing power to drive that, we have a real cool opportunity, a unique opportunity, to visualize data with the best lens possible, to look at this information in much deeper ways than we could have before."
With 256 megapixels, this CyberCANOE is the ultimate tool for scientists and researchers to visualize big data at resolutions that are 100-times better than commercial 3D displays.
Interested in developing software for the Destiny-class CyberCANOE?
Get started at the CyberCANOE website.
The Destiny-class cost about $250,000 to build and is actually the seventh and best CyberCANOE Leigh has built in Hawaiʻi over the past couple of years. He's involved students from day one with investment and partnership from the National Science Foundation and the UH Academy for Creative Media System.
UH Academy for Creative Media System Director Chris Lee said, "We just found ourselves really sympatico about how we saw technology changing both the students and the university and ultimately Hawaiʻi's economy in the future."
Up next, even better CyberCANOEs for UH's Experimental Program to Support Competitive Research, or EPSCoR's, fresh water sustainability research and for the UH Academy for Creative Media System at West Oʻahu.
Leigh said, "Just as we continue to build higher resolution instruments for looking at the stars, for looking at the earth, this is the same kind of thing."
You could say Leigh and his students are boldly going where no one has gone before and they are encouraging the research community to join them for a ride in the latest, greatest CyberCANOE.
—By Kelli Trifonovitch