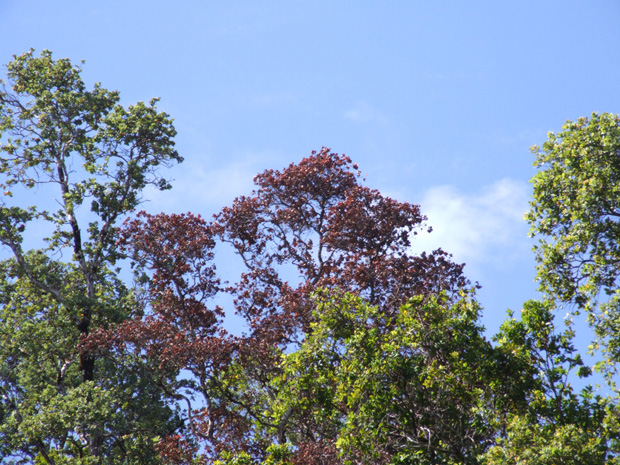 Lead scientists joined Governor David Ige and other top policy makers for the first Rapid ʻŌhiʻa Death Summit on November 30. State and federal experts, including University of Hawaiʻi at Mānoa researcher Gordon Bennett, provided situation reports on the disease and presented the recently completed, strategic response plan which will guide the statewide response to this dire threat to Hawaiʻi's most iconic tree species.
The fungal disease has devastated more than 50,000 acres of native ʻŌhiʻa, one of Hawaiʻi's most prized and culturally important forest trees. Understanding the disease and how to prevent or slow further spread is a top priority. Gov. Ige said, "Rapid ʻŌhiʻa death has prompted the mobilization of several state and federal agencies and is a top priority for leading researchers who are learning more about this disease as they work to stop it from spreading."
Bennett, an assistant researcher in the College of Tropical Agriculture and Human Resources, is collaboratively investigating the linkage between non-native beetles and the spread of rapid ʻŌhiʻa death. He explained that these wood boring beetles are attracted to unhealthy trees and set up homes (galleries) in them. Currently he and other researchers are looking at pest control and scientific management strategies.
"We're just starting in this area. It's a new challenge," said Bennett.
Today's presenters were a few of the front-line researchers, forest managers and policy makers, who've been working since late 2014 to try and identify the cause of the disease and how it spreads. Their findings prompted a strict state Department of Agriculture quarantine which restricts movement of all ʻŌhiʻa wood, soil and Metrosideros species plants and plant parts from Hawaiʻi Island to the other islands. The state also has publicized and distributed protocols to inform the general public and forest users about steps they can take to further prevent the spread of this disease.
For more about the summit and the presenters, go to the Department of Land and Natural Resources website.
—From a Department of Land and Natural Resources news release.
UH News video: UH researchers making advances in battle against rapid
ʻŌhiʻa

death

UH researchers say ambrosia beetles, which are only a few millimeters long, may be partly responsible for the spread of rapid ʻŌhiʻa death.
Read more about rapid
ʻŌhiʻa

death in UH News