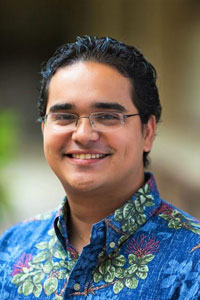 The University of Hawaiʻi at Mānoa William S. Richardson School of Law was awarded a two-year $120,000 grant to increase support for students from underserved and underrepresented communities in the school's Ulu Lehua Scholars Program.
The grant, awarded by Access Group's Center for Research and Policy Analysis, provides funding to support student success and to enable the law school to collect and statistically analyze data on indicators to enhance bar passage for students in the program. It will also support a special law school summer school class for Lehua Scholars.
"The grant is generally awarded to innovative programs that create pipelines into law school for minority students," said Interim Director Troy J.H. Andrade, who assumed leadership of the program in the fall of 2016. Andrade is also an alumnus of the UH law school.
"But for us, it will be a little different because the funds will be used to support our Lehua Scholars while at the law school to ensure their success as aspiring attorneys with a passion for social justice."
The grant is specifically aimed at assisting students from diverse backgrounds with an emphasis on historically underrepresented minority students as well as those from economically disadvantaged backgrounds, in accordance with Access Group's funding priorities. It will enable Andrade to spend additional time tutoring and advising students, as well as hiring tutors to supply every student the help needed.
"The Access Group Center for Research and Policy Analysis is pleased to award the University of Hawaiʻi a $120,000 grant for the William S. Richardson School of Law Lehua Scholars Program. Access Group is committed to funding innovative programs that share the same goal—improving access to legal education," said Christopher P. Chapman, president and chief executive officer of Access Group.
As bar passage rates have dipped nationally in recent years, rates have fallen most noticeably among students from disadvantaged communities. This grant hopes to develop methods to reverse that trend—not just in Hawaiʻi, but also at law schools across the country.
"In partnership with Access Group, the Lehua Program will continue to serve as a national model for other law schools to help ensure that students from various backgrounds are able to stay in law school, be successful, and pass the bar," said Andrade. "In general across the country, the bar passage rates have been going down, so part of the grant is to conduct a study at our school to figure out the indicators for success.
"With the data, we can home in on what it is that makes students more successful."
Dean Avi Soifer said, "The Ulu Lehua Program is a national model and we are extremely proud of its many success stories. Troy Andrade is himself an inspiring example, and the Law School is extremely proud to have him return to the law school to build on the work of Professor [Linda Hamilton] Krieger and earlier directors of the program."
Soifer added, "We are extremely grateful to the Access Group for this grant, which was written largely by Law School Special Projects Director Minara Mordecai."
—By Beverly Creamer