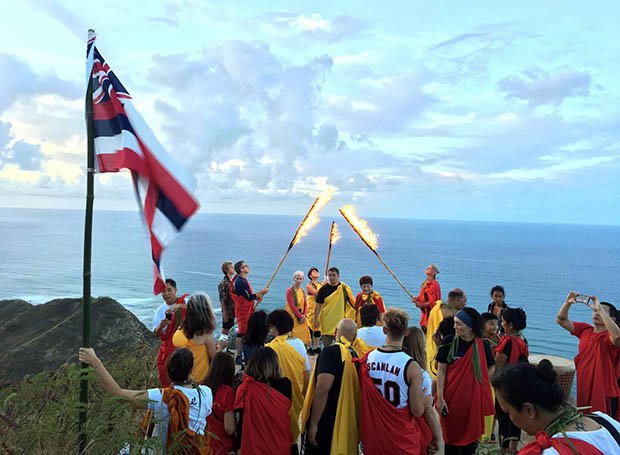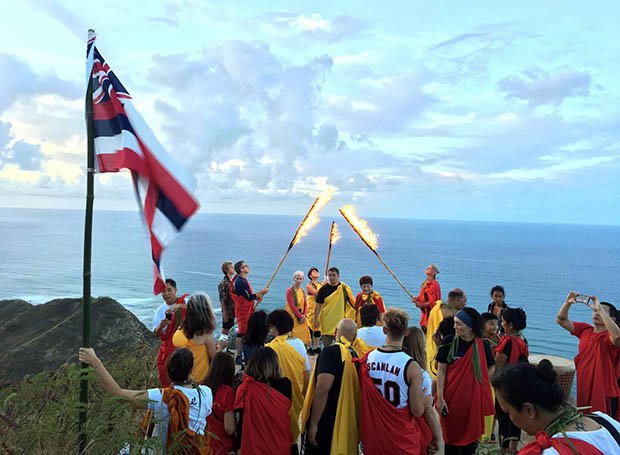 On June 17, more than 135 years after King David Kalākaua returned to Hawaiʻi after circumnavigating the world, faculty, staff and friends from Kapiʻolani Community College repeated the spirit of welcome and homecoming for the Hōkūleʻa and its escort canoe the Hikianalia upon their return from their worldwide voyage by lighting torches on the summit of Diamond Head, or Lēʻahi.
Meeting at 4:30 in the morning, greeters put on their kīhei and tī-leaf lei before they ascended the summit of Lēʻahi. The early morning was still and dark, but the members managed the trail, respectful of the Hawaiian flag and a pahu (drum) they carried. When they reached the summit, they were greeted by the sunrise and the break of dawn.
As the flotilla of vessels appeared, members chanted in unison with passion and vigor. Fire from the torches had already burned themselves out, but sounds from the pahu drum proved that one cannot change the sound of an echo. Chanting of the oli provided immutable resonance and repeated itself from energy of its own.
Nāwaʻa Napoleon, one of the coordinators of the event said, "There is an ʻōlelo noʻeau that sums up the homecoming of Hōkūleʻa on June 17, 2017. 'Umi ka hanu! Hoʻokahi ka umauma ke kīpoʻohiwi.'" (Hold the breath! Walk abreast, shoulder to shoulder) Translation: Be of one accord, as in exerting every effort to lift a heavy weight to the shoulder and to keep together in carrying it along.
Kapiʻolani CC is proud of alumnus Nainoa Thompson and prouder still to have his legacy in the Hawaiian Star Compass on campus. It is the Polynesian Voyaging Society through fellow traveler and pwo navigator Bruce Blankenfeld, that helped Kapiʻolani Community College find the North Star, preserved and used in teaching and as a reminder to mind our own moral compass.
Interim Chancellor Louise Pagotto shared her thoughts: "We honored Nainoa, the navigators and crew of the Hōkūleʻa by greeting them on their voyage home. We honored their ancestors by chanting the words from long ago. The energies and dedication of Kapulani Landgraf and Nāwaʻa Napoleon guided and supported us throughout the planning, preparation and realization of the event. We participated in marking an historic event and I've never felt more proud to be of Kapiʻolani Community College."
Read more UH News on Mālama Honua.
—By Louise Yamamoto