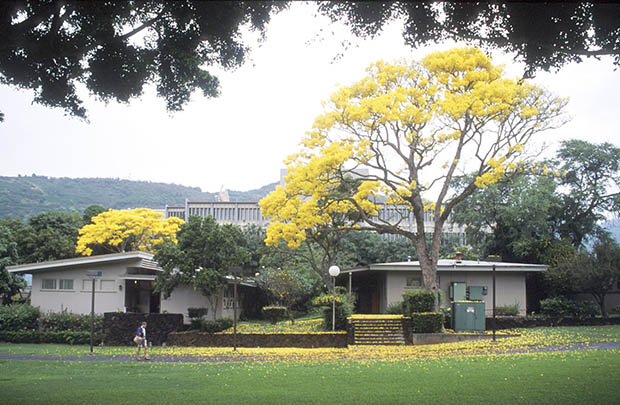 —This message by UH Mānoa Professor Douglas Vincent was originally sent to the faculty and staff of the College of Tropical Agriculture and Human Resources in response to the UH News story: Henke Hall demolition clears way for state-of-the-art science building.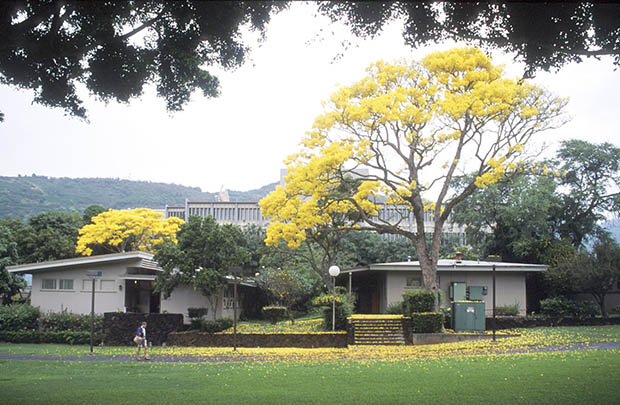 Colleagues,
In a few days, the contractor will begin the demolition of Henke Hall. It is being demolished for the new Life Sciences Bldg. (which will replace Snyder Hall). For many of you, Henke Hall is just this dumpy, low-rise building in between Moore Hall and Kennedy Theatre, just mauka of Paradise Palms. But for some of us, it was our departmental home until 2000 when CTAHR vacated it for the then new Agricultural Sciences III building. Before the move and the merger, Animal Sciences, Food Science and Human Nutrition, and Agricultural Biochemistry Departments occupied the offices and labs in Henke Hall. Henke Hall was completed in 1956 and was dedicated, by USDA Secretary Ezra Taft Benson, during the 50th anniversary of the founding of CTAHR.
But do you know who Henke was? Louis Albert Henke was hired by President John Gilmore in 1916. Henke, originally from Wisconsin, was born in 1889 and died in 1985. Professor Henke, an Animal Scientist, taught six of the eleven courses offered in agriculture in the early days of the college. Henke pioneered the use of agricultural wastes from sugar cane and pineapple to be used as low cost animal feed for our livestock farmers. Henke retired from CTAHR in 1954 but continued to work and conduct research with students and faculty well into his 80s.
So as the bulldozers knock the building down, remember Henke Hall legacy, and reflect on those who came before us.
If you'd like to read more about UH's buildings, you can download Victor Kobayashi's book Building a Rainbow: A history of the buildings and grounds of the University of Hawaiʻi's Mānoa Campus from UH Mānoa library, or read about the history of CTAHR in our Centennial book published in 2008.
Aloha, Henke Hall.
—Doug Vincent