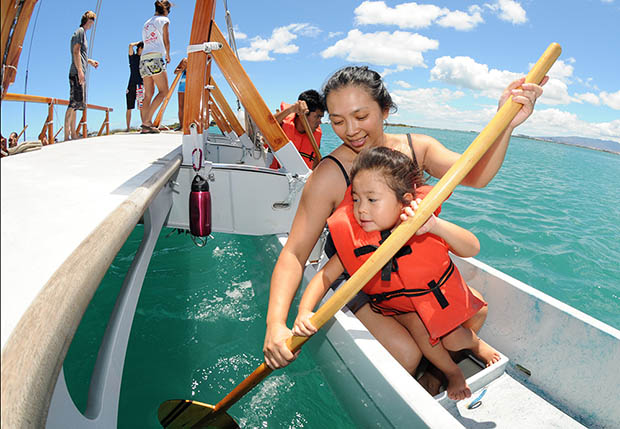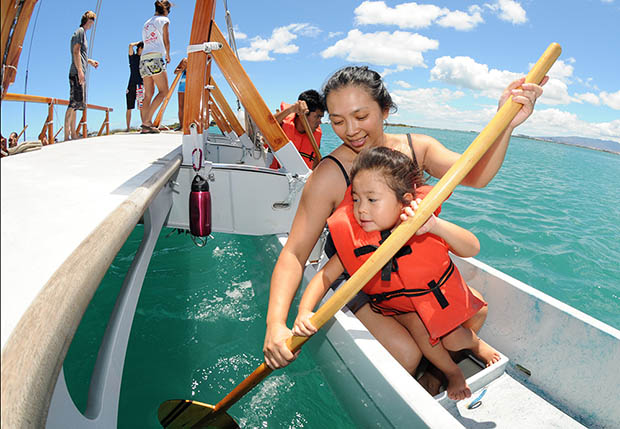 Having traveled approximately 40,300 nautical miles, Hōkūleʻa is home from traveling around the world, but not for long. This fall she will depart on a mahalo sail around the state. In anticipation of the public's interest to learn more about navigation, Honolulu Community College and the Polynesian Voyaging Society (PVS) are offering Level I Basic Crew Member Training starting July 11. The course consists of 15 sessions over eight weeks.
Taught by Honolulu CC Associate Professor and PVS Captain Robert Perkins at the college's Marine Education and Training Center (METC) at Sand Island, students will learn about the history of the Polynesian Voyaging Society, parts of a canoe, seamanship and navigation basics.
"It is amazing to think that the Polynesians, long before the Europeans had ever crossed any oceans, were discovering and settling the largest ocean on planet Earth," says Perkins.
Becoming a crew member is an intense and extensive process. Although participants will not be going on a sail at this level, this course will introduce them to the first steps of understanding what it's like to be a crew member of a canoe.
Honolulu CC student and Hōkūleʻa crew member Maleko Lorenzo says, "Most people don't know it's pretty physical to sail these canoes, these big voyaging canoes."
In alignment with the University of Hawaiʻi's commitment to serving as a model indigenous institution of higher knowledge, Honolulu CC is promoting Hawaiian values and culture through these non-credit offerings and its Hawaiian studies degree program. Honolulu CC offers courses in Hawaiian astronomy and navigation through its Hoʻokele program at METC in which students receive hands on sailing practice on a 16-passenger canoe Kamauheheu, which was constructed by Honolulu CC students.
The Level I Basic Crew Member Training course is offered as a non-credit option at $60 per session. For more information about the course visit the Honolulu CC website or call (808) 845-9296.
—By Billie Lueder