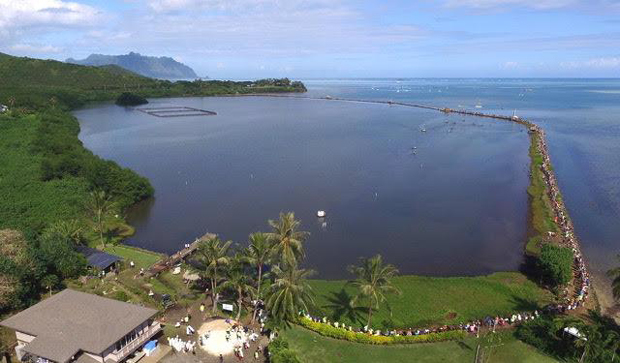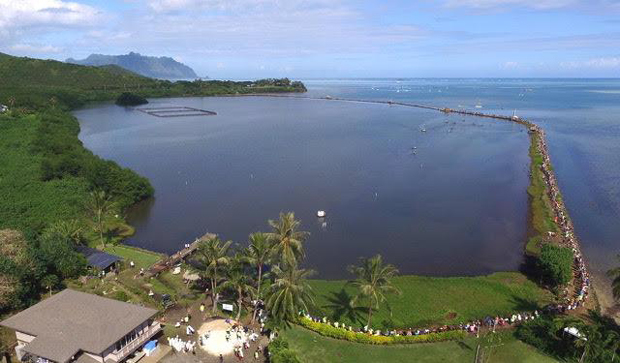 A National Science Foundation innovation grant to has spawned a second generation Hawaiian fishpond mobile app. The newly released Loko Iʻa 2.0 iPhone app allows users to explore Heʻeia fishpond on Oʻahu, Hawaiʻi through guided on-site and virtual tours, photos, narration, natural history, culture and science. The app was created by Judith Lemus of the University of Hawaiʻi at Mānoa Hawaiʻi Institute of Marine Biology, Marion Ano of Purple Maiʻa Foundation, the staff of Paepae o Heʻeia and in collaboration with Brian Glazer of the UH Mānoa School of Ocean and Earth Science and Technology oceanography department.
The new version, funded through a National Science Foundation I-Corps for Learning grant to Lemus and Ano, includes access to real-time data from Glazer's water quality sensors in the native Hawaiian fishpond, sections on Mea Ola (pond life) and ʻIke Hawaiʻi (Hawaiian knowledge), as well as all new graphics and images. Expanded virtual and walking tours also allow users to explore even more of the pond.
"The goal of the app is to promote technology-enabled, place-based learning and to highlight the integration of science, traditional knowledge and cultural practice to help restore Hawaiian fishponds," said Lemus, who first received grants for this project from the NSF and the Hawaiʻi Community Foundation. The new award provided funding to incorporate several technological and design upgrades into the app, as well as training on business model development for educational innovations.
The team wanted to create an educational tool that promotes learning from a holistic perspective that is usable by both teachers and community members. The app highlights efforts at Heʻeia fishpond as a model for community engagement and successful integration of science and traditional knowledge systems. It also promotes the ecological and cultural value of Hawaiian fishponds.
Ano commented, "The updated visual design and functionalities of the app aim to draw the user in and showcase this amazing cultural legacy, and users can stay connected remotely through the virtual tour and real-time data."
Walled Hawaiian fishponds, or loko iʻa, are exemplars of traditional Hawaiian engineering, technology, and resource management. Sometimes called the "Hawaiian refrigerator," they were used to attract, grow, and store herbivorous fish for community sustenance. Previously common along shallow coastlines, especially on the windward side of Oʻahu, very few remain today due to land development, sedimentation or neglect. Several of those still in existence are now managed by dedicated community organizations like Paepae o Heʻeia, with plans to restore these fishponds to their original function. Researchers at UH are assisting with some of these efforts by applying new technologies and methods to help better understand and address modern-made problems like anoxia and eutrophication.
"The app connects people to their environment and offers a fun and an interactive way to learn more about Hawaiian fishponds," said Lemus. "Hopefully, this will enhance the public's interest to become more involved in their community, engage in citizen science, and help to restore cultural resources."
—By Marcie Grabowski