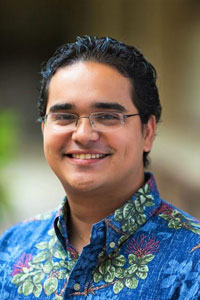 Troy J. H. Andrade, a William S. Richardson School of Law graduate and visiting assistant professor, has won national recognition from the American Bar Association (ABA) as one of the Top 40 Young Lawyers for 2017.
Andrade is being honored as part of ABA's On the Rise program for his "teaching and mentoring of law students who have overcome adversity and demonstrate tremendous potential to succeed in law school and beyond." He is the first and only Hawaiʻi attorney to receive this national award from the two-year-old ABA program that recognizes and spotlights young attorneys from across the nation who exhibit experience, skill and character.
A year ago Andrade took on leadership of the unique Ulu Lehua Scholars Program that supports students from underserved communities. As the Ulu Lehua interim director, he has also administered a grant that provides funding to support student success and is enabling the law school to collect and analyze data on indicators that ensure bar passage among these students. The study is expected to serve as a national model in raising bar passage rates that have been slipping nationally over the last few years.
"Professor Andrade's work ethic and dedication inspire me every day," said second year law student Andres Y. Gonzalez. "During our conversations, he's always listened carefully to my aspirations and helped me navigate the various ways in which I can achieve my goals. It's a great honor to count on his mentorship and support."
Andrade said he is humbled by the award but the recognition must also go to the law school faculty and staff who provide mentoring and assistance to program participants during their first full year at the University of Hawaiʻi.
"I am truly honored to receive this recognition from the ABA," said Andrade. "My success is directly attributable to the unending support I have received from mentors, colleagues, students and my family. I have tried my best to give back where I can to ensure the betterment of our community."
"This recognition from the ABA is so well-deserved," said Acting School of Law Dean Melody MacKenzie. "Troy embodies the values that we seek to foster in our students and graduates—dedication, commitment and excellence."
Read the William S. Richardson School of Law story to learn more about Andrade.
—By Beverly Creamer