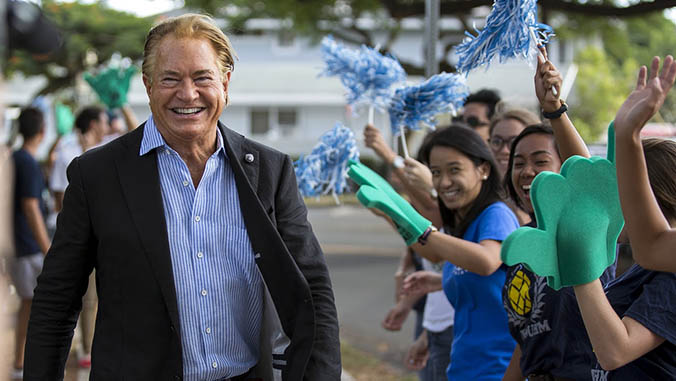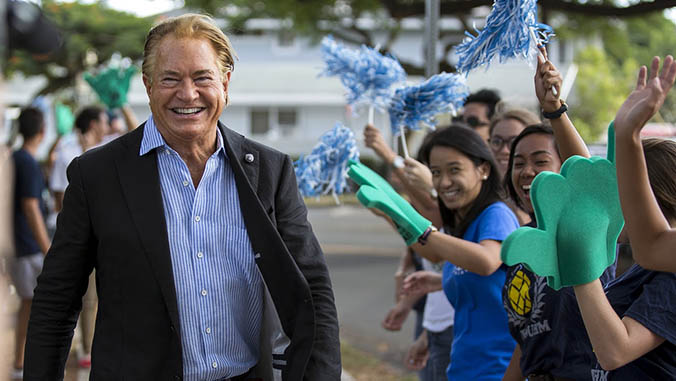 University of Hawaiʻi at Mānoa students from the Shidler College of Business gave alumnus Jay H. Shidler, the school's namesake, a hero's welcome as he arrived at College Hill, for a celebration of Shidler's latest donation to the college worth $117 million.
"That was, I can't explain it, unimaginable," said Shidler. "And 50 years ago I was walking on that street over there and never dreamed I'd even get invited up the hill, let alone have some folks with my name on signs. So it was really spectacular."
"We're so thankful," said Shidler student Mairead Delumpa. "None of this could happen without him so we just wanted to thank him for that and we wanted to show our appreciation by being here today."
Shidler has given a total $228 million, the largest individual donation in UH history. That will provide the college with steady funding well beyond the next century, for an estimated minimum of $7.2 billion.
"My job to ensure that this university and this college of business has the financial resources to continue to be relevant and viable," said Shidler.
The long-term nature of his gift—ten ground leases for 11 office buildings, in 9 major U.S. cities—will generate an estimated $2.1 billion by the time the 99-year agreement ends. Then, UH will own the land assets, worth an estimated minimum of $5.1 billion.
"The trick is if you donate money, if you can actually invest that money in the gift you're giving," said Shidler. "And if that gift starts to produce a predictable income overtime at certain indexed to inflation, that's a really, really, really passive, management free, high quality flow of income."
Now the possibilities, like making the college tuition-free within 40 years, are endless. All thanks to a 1968 graduate, who never forgot the school he credits for preparing him for a very successful career and his lifelong love of Hawaiʻi.
See more images at the Shidler College of Business Flickr.