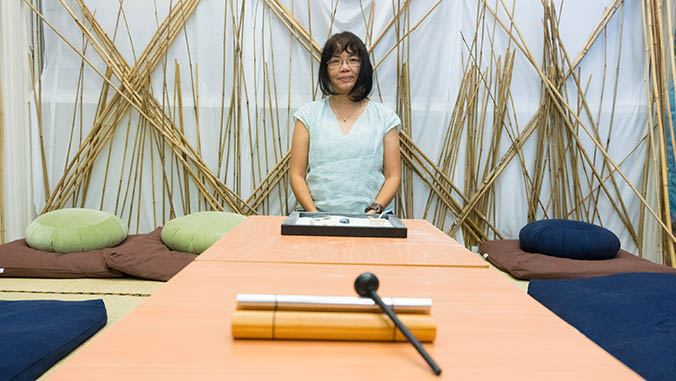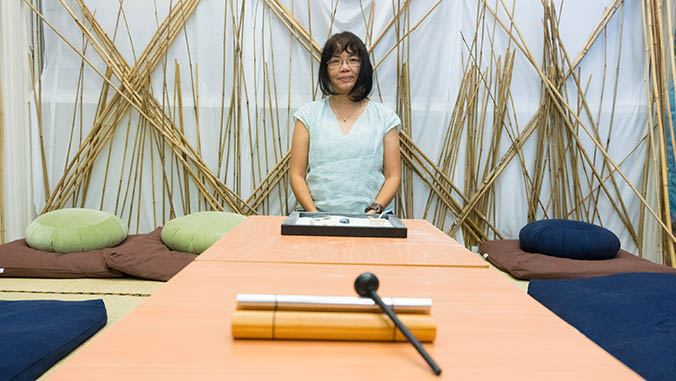 Students, staff, and faculty on the University of Hawaiʻi at Mānoa campus who are feeling the need to relax and regroup have an option they may not be aware of: the Pause Space. Located in Kuykendall Annex 6, this place for UH community members to practice mindfulness meditation offers peace of mind and body. Creator of the Pause Space Thao Le, an associate professor in Human Development and Family Studies, and her assistant Noah Pomeroy hope to get the word out.
The impetus behind the creation of the Pause Space was the rise in stress and anxiety observed across college campuses. While the Pause Space isn't set up to provide counseling and treatment, it is available for people who need to take a break, breathe, find bit of stillness or simply just be. "We all need to reboot," Le explains. Visitors need not be suffering from anything in particular to be welcome.
Hitting "pause"
The space is simple: a low table with a small chime and a miniature Zen sand garden, surrounded by cushions to sit or lie on. Natural landscape and seascape scenes are screened on wall hangings, and an aromatherapy diffuser exhales the subtle scent of a fragrance called, appropriately, "Breathe." There are green and jasmine teas available, and a white noise machine offers the sounds of waves, rain, thunder and birdsong. The lighting can be muted to a comfortable level.
Mindfulness is an awareness that arises from an attentive mind situated in the present moment. It includes focus, attention, and most importantly, stillness and letting go. Le, who is part of the department of Family and Consumer Sciences in the College of Tropical Agriculture and Human Resources, has worked with diverse populations in different settings using mindfulness techniques, including with youth and young adults on Native American reservations, in detention and corrections facilities in Hawaiʻi and in educational settings in Hawaiʻi and Vietnam.
A delicate dance
Pomeroy, who is training in mindfulness facilitation, manages the space and guides mindfulness sessions along with Ivee Cruz, a PhD student in the College of Education. Ideally, he notes, one is able to hold loosely onto the idea of achieving a specific result from the practice, because mindfulness is really about letting go, and when you can do that, that's when the magic happens. "It's a delicate dance," to use Pomeroy's phrasing.
Everyone is welcome, from experienced practitioners to complete novices, people who want a guided meditation session and those who want to be left alone. "You don't even have to meditate," Le encourages. No matter what visitors do, it's surprisingly helpful just to hit "pause" in our busy lives.
Current hours and more information are available at the Pause Space website.
—By Frederkia Bain