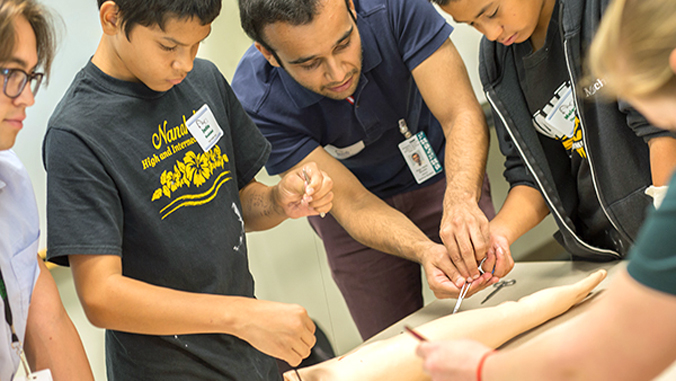 The John A. Burns School of Medicine at the University of Hawaiʻi at Mānoa was bustling with middle and high school students thirsty for knowledge and hands-on learning at the 2017 Teen Health Camp on October 28. Although the one-day event occurs across several islands, this was Oʻahu's third camp and the largest since its inception in 2010.
Thirty-five medical student volunteers led the interactive workshops. This year's response to the event was so overwhelming that a seventh workshop was created. Activities focused on clinical skills, infectious disease, casting, medical tools and nutrition.
Jamaica Torres's favorite activity was the suturing workshop, where she and her peers learned to suture wounds on a dummy. Torres is a cadet in the National Guard Youth Challenge Academy, a program that mentors students who are at risk of dropping out of high school and provides an alternative way for them to earn their high school diploma. Torres dreams of becoming a nurse in the U.S. Coast Guard. "I want to help those who are going to war for us, letting us have freedom."
Teen Health Camp medical student coordinator Erika Noel advocates for the program, which has become a passion for her. "It is targeted to underprivileged, underserved communities to expose them to health care," said the third-year medical student. "We touch the lives of over 200 children in one day, which is what makes me love to do this year after year."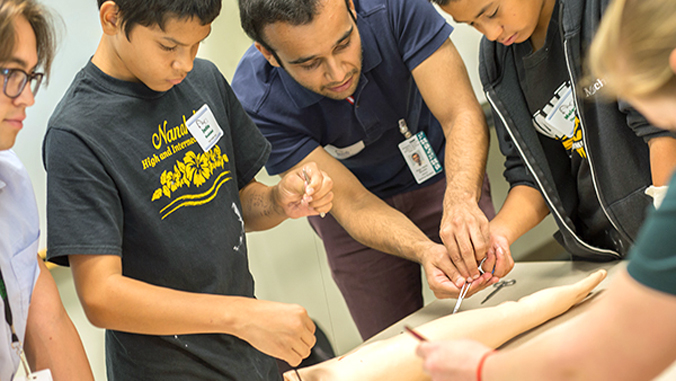 Upcoming Teen Health Camps
2018 Teen Health Camps schedule
January 20, 2018—Maui
February 10, 2018—

Hawaiʻi

Island
February 17, 2018—

Molokaʻi

(for the first time)
Fall 2018—

Oʻahu

(to be announced)
Interested Teen Health Camp participants should contact Priscilla Mapelli at (808) 692-1065.
For the full story, go to the John A. Burns School of Medicine website.
—By Tina Shelton