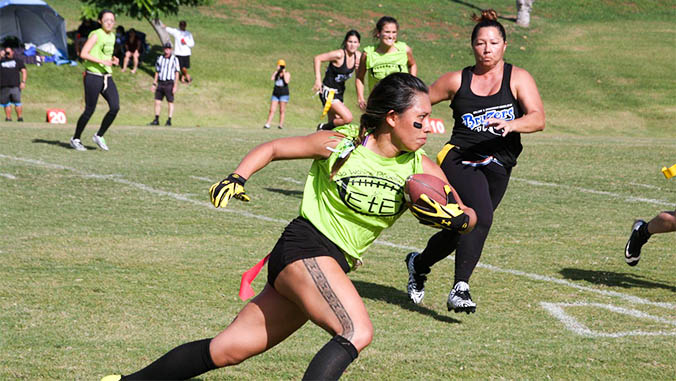 The William S. Richardson School of Law's alumnae team won the iconic Ete Bowl in a hard fought 3-1 victory at the University of Hawaiʻi at Mānoa soccer field.
This was the 40th annual flag football game in which current women law students, the Etes (green shirts), challenge an alumnae Bruzers (black shirts) team to a good-natured grudge match.
It all began back in 1978 as a way to forge solidarity at the fledgling law school and relieve some of the humdrum of winter studies.
"Our students have truly embraced this athletic contest as a way to bring all the classes together and offer the opportunity to network with graduates," said Acting Dean Melody K. MacKenzie. "But both sides are also extremely serious about winning."
In 2013, the game earned a high honor from the Hawaiʻi Women Lawyers, which presented it with the President's Award for its important networking role in connecting up-and-coming law students with seasoned attorneys working in the legal field.
Those seasoned attorneys have included graduates such as Hawaiʻi Supreme Court Associate Justice Sabrina McKenna and retired Judge Riki Amano, who served as a District and Circuit Court judge. Both have been staunch supporters and players over the years.
—By Beverly Creamer