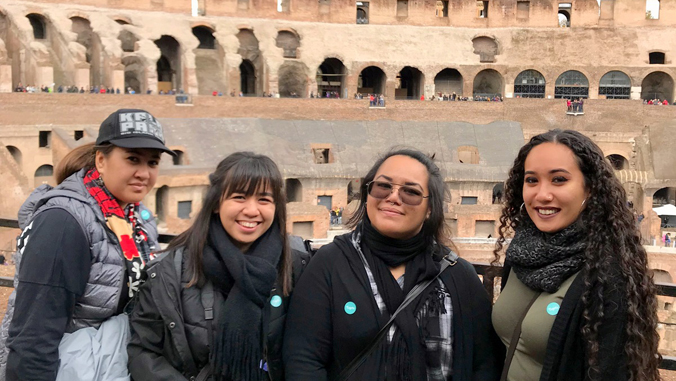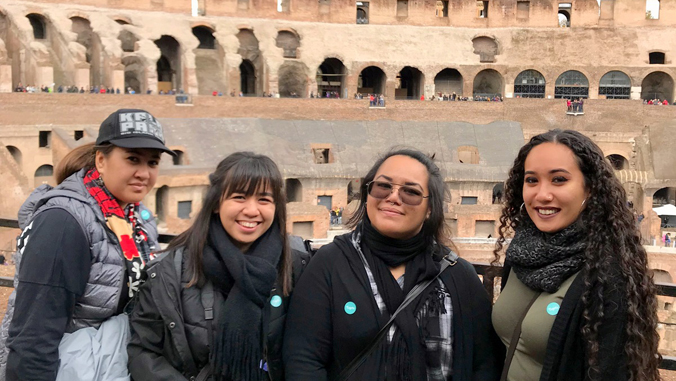 Four English majors at the University of Hawaiʻi at Hilo presented their research papers at the International Journal of Arts and Sciences conference in Rome in November. Uʻilani Dasalla, Tynsl Kailimai, Ciarra-Lynn Parinas and Leomanaolamaikalani Peleiholani-Blankenfeld attended the conference, which featured more than 100 international scholars at The British School at Rome.
The presentations originated in a spring 2017 course, Graphic Novels and Comics, taught by Kirsten Møllegaard, associate professor of English. Under Møllegaard's guidance, the students expanded on their original class papers and partnered up to write substantial literary analyses that will be submitted for publication in the International Journal of Arts and Sciences.
Dasalla and Peleiholani-Blankenfeld focused on the way the comics medium, in particular autobiographical graphic novels, can help heal and overcome personal trauma. Their presentation, "Healing with Graphic Novels: A Psychoanalytic Analysis of Alison Bechdel's Fun Home," investigates the therapeutic properties of art in Bechdel's acclaimed coming-of-age narrative.
Kailimai and Parinas jointly examined comics author Alan Moore's seminal works in their presentation entitled, "Fighting for Justice or Creating Chaos: An Analysis of V for Vendetta and Watchmen." They explored the political underpinnings of these two novels by focusing on the themes of vigilantism and terrorism in conjunction with the overall question, "what makes a hero a hero?"
"These four UH Hilo English majors' successful international conference presentations and the stellar caliber of their research projects demonstrate the overall quality of a UH Hilo education and helps to put UH Hilo on the map as an institution that supports and encourages undergraduate student research in the humanities," said Møllegaard.
For more, read the full story at UH Hilo Stories.
—From UH Hilo Stories