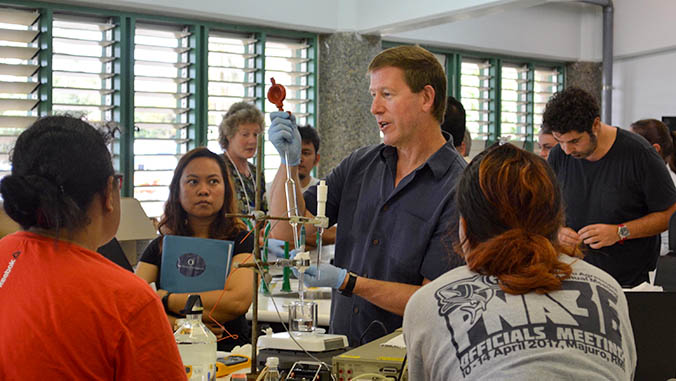 Chris Sabine will join the School of Ocean and Earth Science and Technology at the University of Hawaiʻi at Mānoa as a professor in the Department of Oceanography on January 2, 2018. He is currently the director of the National Oceanic and Atmospheric Administration (NOAA) Pacific Marine Environmental Laboratory, one of the premier government laboratories in marine sciences.
Sabine's research emphasis is on the role of the ocean in the global carbon cycle, in particular, understanding ocean acidification.
He has been actively involved in multiple international programs making state-of-the-art ocean carbon measurements and published more than 150 peer-reviewed scientific articles on carbon cycling. He was lead author on a 2004 Science article presenting the first estimates of human-derived carbon distributions in the ocean based on inorganic carbon measurements. He was also among the first to publish scientific articles describing ocean acidification.
Sabine has been a scientific advisor for several national carbon programs. He was a lead author of the 2011 A U.S. Carbon Cycle Science Plan, a national strategy for multi-agency global carbon cycle research for the next decade. He also helped develop the ocean acidification research agenda.
"As an oceanographer focused on global environmental issues, I feel it is critical to prepare the next generation for the environmental changes they will be facing," said Sabine. "This means sharing the knowledge I have gained over my 25-year career and focusing my research on improving our understanding of variability in the marine environment. As a society we must learn to manage and adapt to evolving ocean conditions. Since Hawaiʻi and the Pacific Islands are the most vulnerable to marine environmental change, I believe UH Mānoa is uniquely situated to take a leadership role in finding a sustainable path into the future."
Returning to education and research roots
The professorship represents a return to Sabine's scientific roots. He earned his doctorate in oceanography from UH Mānoa in 1992 with Fred Mackenzie, emeritus professor of oceanography. After earning his degree, Sabine took a postdoctoral researcher position at Princeton University and vowed to find a way back to the islands.
"We are very much looking forward to welcoming Chris back to the Mānoa ʻohana, and to working with him and his colleagues in expanding our research and education activities aimed at better understanding and responding to human impacts on our oceans," said Michael Bruno, UH Mānoa interim vice chancellor for academic affairs and vice chancellor for research.
Sabine has been with the Pacific Marine Environmental Lab since 1999, working his way up from research scientist to laboratory director. As director for the last five years, he directly managed $16 million in research funds per year and a research laboratory of approximately 200 scientists and engineers who competitively bring in approximately $35 million per year in proposal-driven research funding.
"After six years in management I realized that I was losing touch with my research and wanted to redirect my efforts to reconnect with my scientific interests and share the knowledge I have gained over my career with the next generation of young scientists," said Sabine. "This position was the right opportunity at the right time. I see this as a return to my roots and a chance to pay back the wonderful opportunities that I received over my career that all started with my education at UH Mānoa."
—By Marcie Grabowski