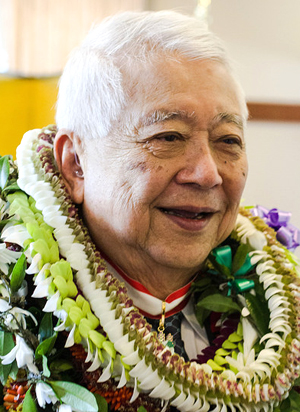 Satoru Izutsu, the former admissions director and vice dean of the John A. Burns School of Medicine (JABSOM) at the University of Hawaiʻi at Mānoa, was presented the Order of the Rising Sun medal by the government of Japan for leading UH aid to Okinawa.
Izutsu led the medical school efforts to assist Okinawa following World War II. The Japanese prefecture badly needed physicians, so UH and Chubu Hospital in Okinawa began a physician training collaboration that has lasted 50 years.
"Today at the 500-bed Chubu Hospital there are over 130 staff physicians, of whom 70 percent are graduates of the UH-Chubu program," said Honolulu Consul General Koichi Ito.
"This award has been made possible because of the support of a generation of scholars from the John A. Burns School of Medicine," said Izutsu. He also said the national decoration is "truly their award," referring to UH partners at Chubu Hospital.
Izutsu, 89, retired from UH in December 2017 after three decades of service.
"I can think of no one who so ably meets the expectations for this award than Dr. Izutsu," said JABSOM Dean Jerris Hedges.
More about the Order of the Rising Sun medal
The Order of the Rising Sun, Gold Rays with Neck Ribbon, is the third highest honor bestowed by the Japanese government and the highest award for a non-citizen of Japan. Given in the name of the Emperor of Japan, it commemorates distinguished achievement in international relations, promotion of the Japanese culture, advancements in fields, welfare development or preservation of the environment.
To see more about this story, including photographs from the ceremony, go to the JABSOM website.
—By Tina Shelton