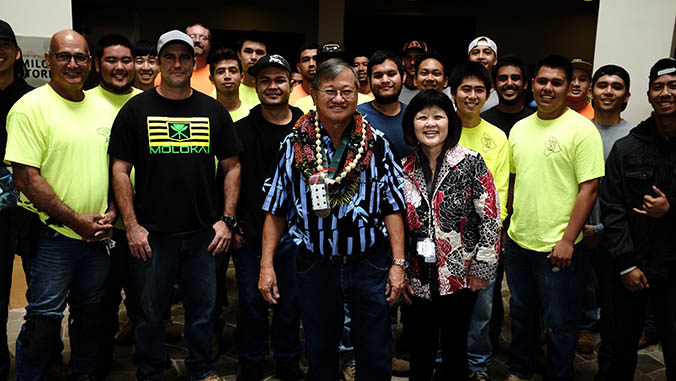 Hawaiʻi Community College Professor Gene Harada has been recognized with the University of Hawaiʻi Willard Wilson Award for Distinguished Service. He is a proud Hawaiʻi CC alumnus and has taught at the school for almost 27 years. He is described as a true mentor to his students, training them to be professional, to show up on time and to do things right the first time.
Harada is the longtime coordinator of the highly popular Model Home Project on the Big Island, which recently completed its 50th project. The model home partnership with the Department of Hawaiian Home Lands provides affordable homes for local families and showcases the skills of Hawaiʻi CC students.
About two dozen of Harada's current and former students and some family members attended the award presentation at a Board of Regents meeting at UH Hilo in February 2018. Harada called the moment "unbelievable," and said he felt honored.
He has completed hundreds of projects over the years with his carpentry students. He dedicates his summer vacations doing repair and renovation work at both Hawaiʻi CC and UH Hilo, saving thousands of dollars in maintenance costs for the campuses, and giving students valuable hands-on experience.
His affection for his students is evident. "They are my inspiration, letʻs put it that way," Harada said. "As long as they want to learn, I will be willing to teach them. If I cannot climb on the roof, maybe it is time to retire. I can still climb the roof."
Harada's colleagues say that "the professional manner in which his students conduct themselves, and their skillful workmanship is a testament to Geneʻs tireless efforts to raise the bar on quality standards and instill in his students a sound work ethic. He is truly someone that practices ʻold schoolʻ work ethic, integrity and honesty."
He is described as a stellar and dedicated team player, a proud and loving grandpa and a dedicated fisherman.
The Willard Wilson award,named in honor of a long-time former UH administrator and secretary to the Board of Regents, recognizes exemplary service to UH by an employee.