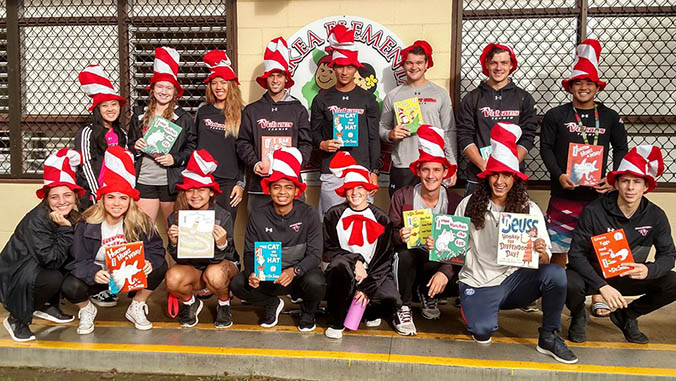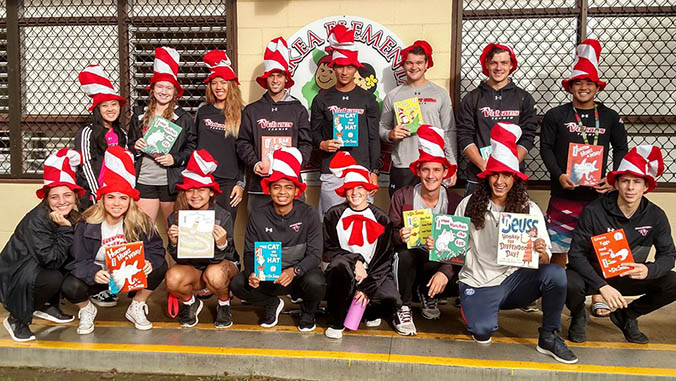 90 University of Hawaiʻi at Hilo students and student-athletes read Dr. Seuss books to more than 2,300 elementary students at seven East Hawaiʻi schools on March 2 as a part of the Dr. Seuss Read Across America Day.
Vulcan teams from the sports of baseball, softball, volleyball, men's and women's basketball, men's and women's golf, men's and women's tennis and men's and women's soccer visited the following Big Island elementary schools–Keaukaha, Kaūmana, Haʻaheo, Waiākea, Keaʻau and Prince Jonah Kalaniʻanaole Intermediate School.
This was a collaborative event between UH Hilo Athletics and the Campus and Community Service program, a part of Campus Center. This year, the number of readers and the number of students that were read to, both increased.
"This is always one of my favorite days of the year," said UH Hilo athletic director Patrick Guillen. "The keiki and our UHH student-athletes really enjoy this event. The smiles and interactions between both is very rewarding to see."