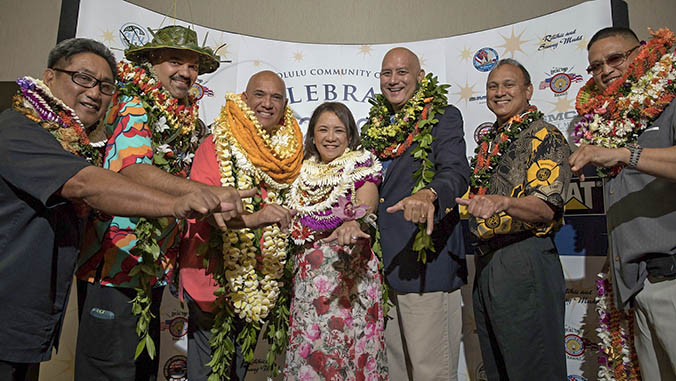 The Honolulu Community College family gathered on March 1 to celebrate distinguished alumni and honor community partner Hawthorne Cat at the Pomaikaʻi Ballrooms at the Dole Cannery.
This yearʻs distinguished alumni are Robert "Bobby" Ayonon, Jerald "Kimo" Alama Keaulana, Kurt Kendro, Manuel P. Neves, Robert Silva, Deborah Lee Keala Spencer-Chun and Arthur Blasie Tolentino. Read more about the honorees.
With music, congratulatory speeches and a silent auction whose proceeds went to the Honolulu CC general scholarship endowment fund, attendees had a great time!
See more pictures from Celebrate! 2018 at the Flickr album. Images courtesy of University of Hawaiʻi Foundation.